The company, AIRBNB, is very popular, covering 81,000 cities and 191 countries, allowing travellers and hosts to connect all over the world.
Would you stay at an Airbnb?
My husband and I choose to house sit instead of searching for accommodations through companies such as AIRBNB, which is basically a service where members can offer homestays or tourism experiences. If you own real estate, have space, and are looking for ways to supplement your income, this might be something for you to consider. For us, we prefer house-sitting for free in exchange for looking after owners' homes and pets. It has been a rewarding experience for us.
I do remember one occasion when we booked an Airbnb in San Juan Del Sur, Nicaragua; however, we did not go through with it. We had to go back home to Canada due to a family crisis and requested our money back. AIRBNB has a policy whereby, if you have extenuating circumstances, you can request your money back. They immediately refunded their portion, but the owner didn't. I contacted him directly and explained the circumstances, and he said there was no problem; he understood. However, after three attempts to get our money back, we finally gave up.
Friends Who Own Airbnbs
I have a few friends who are starting the process or are already running a very successful Airbnb. Let me tell you a little about each and what makes them special.
Airbnb 1: Henley's Dream, Port Dalhousie, St. Catharines Ontario
Our friends, Tom and Liza, have owned an Airbnb in Port Dalhousie, St. Catharines Ontario for several years. We were lucky to stay at their place during a house sit so we got to experience their place firsthand.
Their home is a bungalow, and the accommodations are downstairs, where there are two bedrooms with two twin beds in one and a double in the other, a full bath with shower, a large recreational area with sofas and HDTV, and a little work area for your computer, all fully carpeted. They have a beautiful, inviting backyard. At the time of our visit, the hedge was covered in blossoms!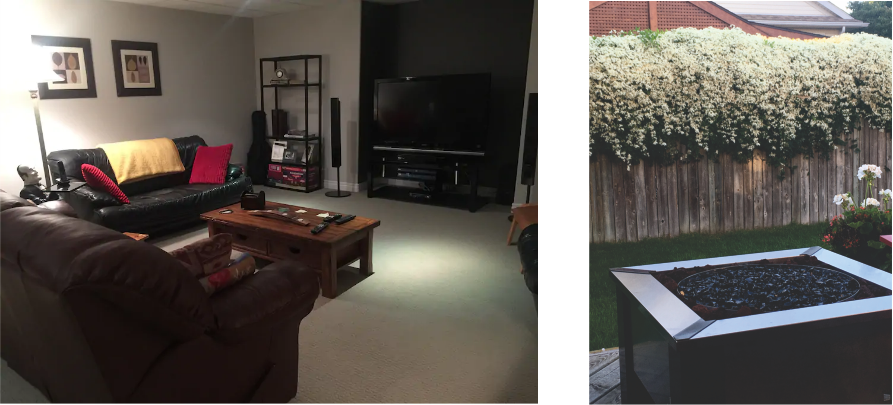 They consistently receive 5-star ratings, which are partly attributed to their personal care and attention to detail.
In addition to the features of the Airbnb itself, which include separate access, cleanliness, comfort, breakfast in the morning, its proximity to shops and restaurants, and their location, which is close to Niagara on the Lake and Niagara Falls, Tom and Liza are described as friendly Super Hosts (a Super Host is someone who has achieved 5 Star Ratings by 90% or more of guests). Their main goal is your comfort while you are away from home.
Although there are no kitchen or cooking facilities, they make up for this by providing breakfast.
What guests say about them and their stay:
Henley's Dream is a warm and comfortable home away from home.

Great easy-going hosts. Fantastic clean place.

I rarely write reviews, but Thomas's Henley House is everything and more than you could hope for in an AIRBNB location and host.

What a great experience, especially for business travellers or those with kids!

Where to begin?! Henley's Dream feels like a home away from home! It is clean and full of thoughtful amenities to make someone's stay extra special.

Hands down, an absolute gem.

Thomas and Liza deserve the title of Super Hosts!

Excellent stay; I cannot fault anything and will likely return.

Liza and Tom's place is a hidden gem among all the listings; Port Dalhousie is also a hidden gem, so perfect for a weekend escape from city life.

Great place. Tom and Liza are incredibly thoughtful and kind; I couldn't recommend them more!
Airbnb 2: Jane's Place, Don Mills, Toronto
Jane and Pete are an exceptional couple, and we feel privileged to have known them for several years. In fact, my husband has known Pete since they were kids in school. With a background in information technology, Pete has taken a departure from this and has embraced the idea of an Airbnb wholeheartedly.
Before they started Airbnb, they dabbled in renting. When their last renters turned out to be the "renters from H#$!" they decided that was it. At the same time, a neighbour suggested AIRBNB.
Although he and Jane have only operated their Airbnb for just a year, they already have forty 5-star ratings.
What guests say about them and their stay:
Amazing, spa environment, thoughtful hosts, and exceptional.

A fantastic place. Great location.

Our flight was delayed and we ended up getting to the place pretty late. To our surprise, there were welcome cookies that made our night since it was too late to stop for dinner.

Beautiful space, with two very comfortable bedrooms and beds, super clean, and amazing thoughtful touches.

Jane is the best host anyone could ever ask for.

If I could give Jane's place a 10 out of 5, I definitely would.

I had a wonderful time staying at Jane's. The best Airbnb I have stayed at in Toronto

The kitchen was well stocked with the amenities we needed to make breakfast meals.

It makes me feel like I am in a 5-star hotel.

This was the nicest Airbnb that I have ever stayed in.
Jane and Pete have recently added a Brondell heated toilet seat, a large leather sofa, and a vintage Barcelona chair.

Accommodations are reasonably priced for this area in Toronto.
Airbnb #3: Eiffel in Highland, London Ontario
Randy is just in the process of providing AIRBNB services for short-term stays. He is located in a quiet area of London, and accommodations consist of a large comfortable room, double bed, bureau, and closet, as well as a computer desk. He hopes to eventually add a TV with Chromecast.
In addition to the above features, the location is close to the downtown and amenities, near parks and public transportation. Guests will share kitchen and bath facilities. Coffee and tea will be provided. We personally know Randy and know that he understands that the comfort of his guests needs to be his main priority.

If you are looking for a comfortable bed to crash in, at $25 a night this is very reasonable for a night's stay in the London area.
Final Thoughts
There you have it. While I am not personally involved with AIRBNB other than supporting my friends, I see the potential, both for the person providing an Airbnb and for the person staying in one. Hopefully, these real-life examples have given you some insight into what makes Airbnb successful.
Would you stay in an Airbnb?
If you are interested in knowing more about AIRBNB, take a look at my last posting "Can You Make Money With Airbnb."
If like me, you are interested in house sitting and saving money, I would suggest Trusted Housesitters as a good place to start. All our Canadian house sits have been through them and we have been extremely pleased.
Have you tried or do you own an Airbnb or are you a house sitter? We would love to hear about your experiences in the comment section below.
Please follow and like us: