Most definitely and here's why! Ajijic (pronounced a-hee-heek) which means Place of Water, is on the shores of Lake Chapala, has an amazing year-round climate, easy access to all conveniences, a low cost of living, and a very involved community.
Since September 2018 my husband and I have house/pet sat for more than 25 clients and 37 pets primarily in the province of Ontario,  Canada, one in Costa Rica and five in Mexico. Previous to this, we had about 10 years of private house-sitting for relatives in Ontario & Nova Scotia.
Our most current house sit is in a place called Los Sabinos, Lake Chapala Jalisco, Mexico; previously we were halfway across Mexico in Puerto Morelos, Quintana Roo Mexico, a beach town, for over 3 years but felt the need for a change; Ajijic is very different to Puerto Morelos.
Over the next few months, we would like to share some of our new experiences here with you as we learn more about the area and the culture.
Location and history
Ajijic is a town in the municipality of Chapala and surrounded by Lake Chapala, in Jalisco state, Mexico. In 2020, its population was 11,439.
Originally called Axixic (in the Nahuatl language), it means "place where water flows." It is said that its history was long before the Spanish conquest when the Nahuatl tribes settled on the shores of Lake Chapala.
It was founded in 1531 and is one of the oldest towns in Mexico. The second oldest convent was established here in the west of New Spain under Father Fray Martin de Jesús, in honour of San Franciso de Asis. The convent was later given the name San Andrés de Axixic who has remained the patron saint.
From 1930 to 1940 it became a popular area for foreigners. In fact, Khyva St. Albans who was the interpreter of the Russian classical ballet made his home here.
On December 1, 2020, it was declared the ninth Magical Town of Jalisco by the federal tourism government.
Its proximity to Guadalajara, which is the second-largest city in Mexico, is approximately a 40-kilometre drive. In addition to Lake Chapala, it is surrounded by the spectacular Sierra Madre Mountains which we are told turn a beautiful green during the rainy season. We can't wait!
Climate
We arrived here at the end of April and the weather has been amazing. According to National Geographic, it is the second-best climate in the world. That's quite a statement!
There is very little humidity due to the lake sitting approximately 5200 feet above sea level and the area is protected from northerly winds due to the mountain range. While the average temperature is 23 degrees Celsius, temperatures can vary from 5 degrees to 33 degrees. If you love cool mornings and evenings and warm days, this might be the place to be! April and May are considered the hot and dry months with temperatures averaging 27 to 33 degrees Celsius. Evenings are comfortable at 16 degrees.
The locals tell us the rainy season starts in June until about mid-October and that we will be in for a pleasant surprise! Plantlife and the mountains turn a lush and vibrant green. They also tell us that the rain falls mostly at night!
We recently experienced our first sunset at the Raquet Club after a Pickle Ball Tournament. We didn't play but were invited by our friends, Barbara and Claudio, for a meal and entertainment at the club afterwards. The excellent food, seasonal temperatures, friends, and sunset made for a perfect evening.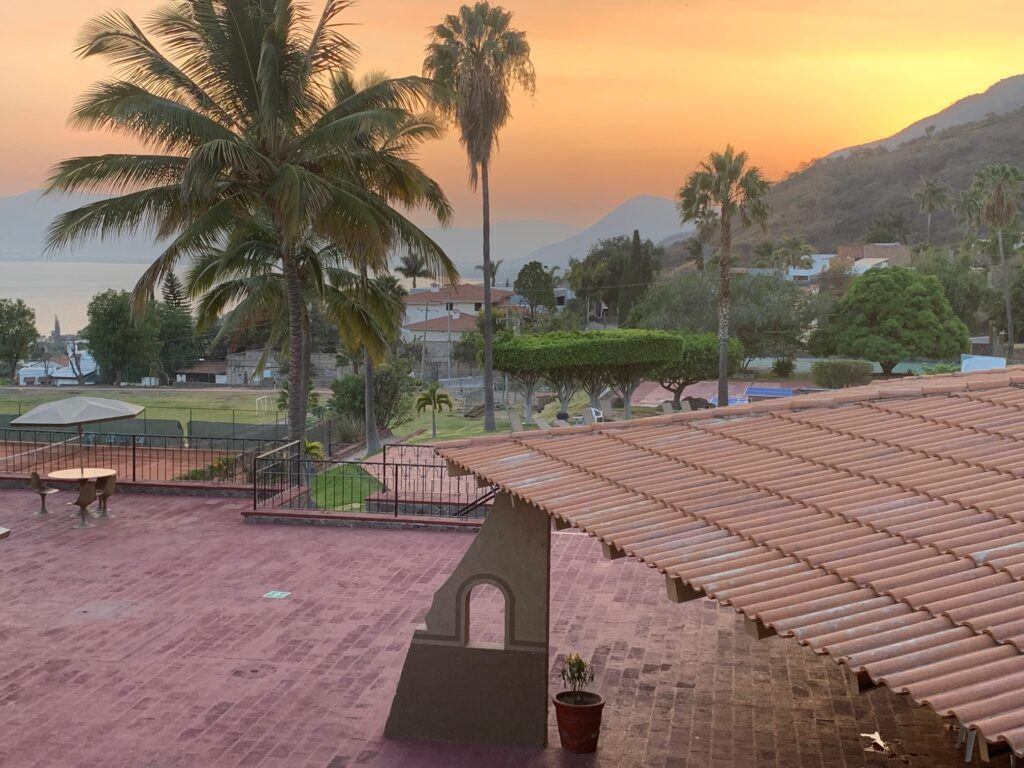 Area and Architect
There are many well-kept, beautiful and palatial homes in Ajijic, particularly in the mountains. A common feature of many homes is the cupola, a small dome adorning the ceiling.
The private gated community we are in, Los Sabinos (a natural tree of Mexico), is along the mountainside. The common area includes a large, clear pool, clubhouse, gym, hot tub, two barbecues, and several tables and chairs for dining/entertainment. There is an unspoken rule that you leave these common areas as you find them.
There is an abundance of cafes and restaurants, fresh markets, theatre, culture, a waterfront boardwalk, hot springs, several medical clinics and hospitals, and a biker's delight with a bike path that is about 8 kilometres from Ajijic to Chapala.
The main road (Carretera) is paved and well-maintained but the majority of the side roads are cobblestoned. It is worth a walk as you will see many painted facades with bright colours.
A friend took us to see the Wall of the Muertos (Wall of the Dead) by artist Efren Gonzales, which honours nationals and foreigners who resided in Ajijic. The more than 1000 skulls represent the residents. Each one has the name of the person and is a combination of Spanish and Expat names.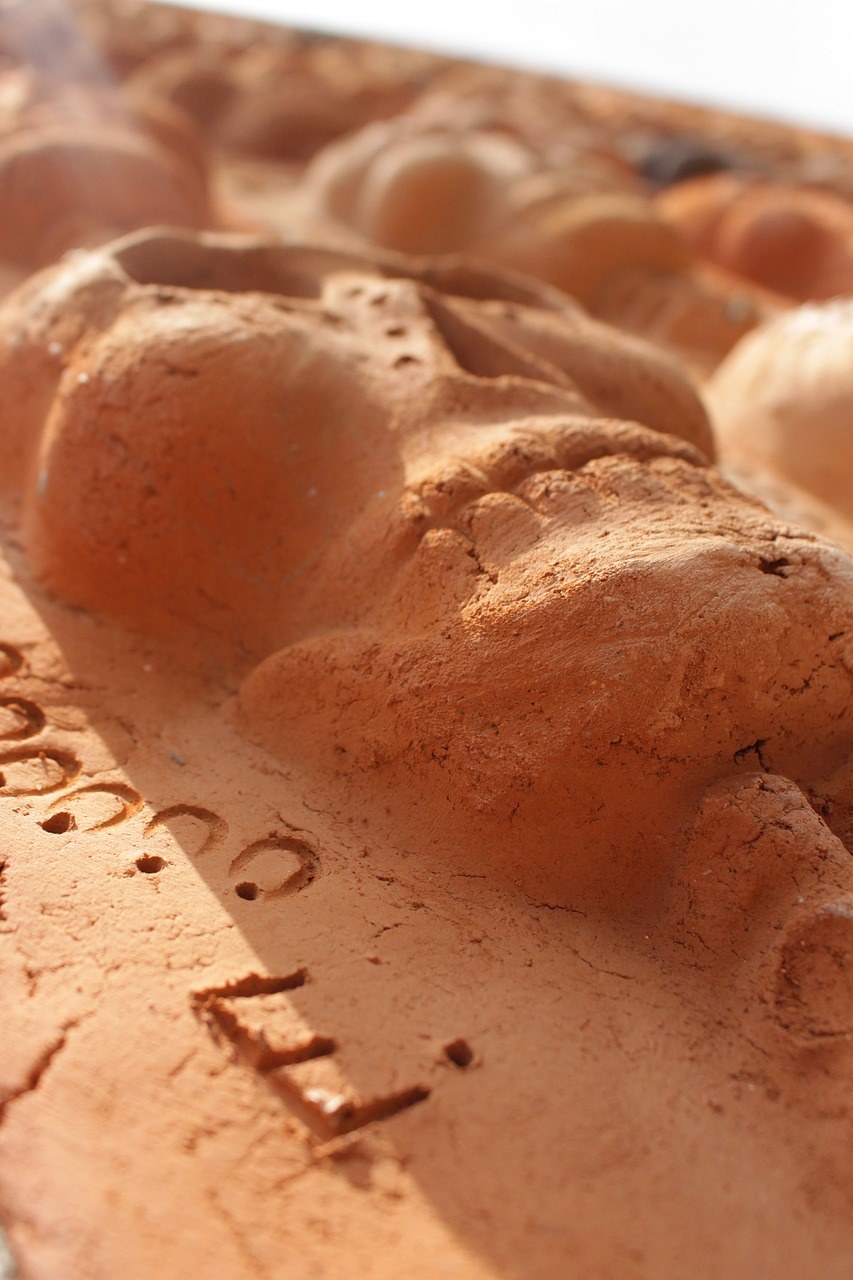 During the dates surrounding the Day of the Dead, each skull is lit with a candle, usually around the end of October and the beginning of November. I can imagine what a spectacular sight this must be during the nighttime.
Ajijic is home to many flourishing and popular artists, both local and ex-pats.
Attractions in Ajijic
Attractions include the waterfront boardwalk (*Malecon), cemetery, markets, golfing, adventure tours, galleries, workout gyms, hiking, horseback riding, cinemas, Lake Chapala Society (a great place to meet people), thermal pools, the square and kiosk, and of course shopping.
*The Malecon is a walkway that follows the shoreline. There are palm trees, fountains, an amphitheatre and a play area.  It is often used for bird-watching or to take fantastic photos, especially of the sunrise and sunset. It is also a gathering area for families and friends to socialize.
There are also several day trips worth checking out (these were supplied by the owner of the housesit we are currently doing).
Tequila – where you can learn how it is made. Jose Cuervo is the best place to go.
Tlaquepaque – where you can wander, eat, window shop, visit the little museum or stop in at the Sergio Bustamante (store/gallery).
Tonala – where most of the handicrafts that are sold are produced.
Los Guachmontones – a pre-Columbian complex of round pyramids and a museum outside of Guadalajara. A guide is recommended.
Mazatmitla – a little town across the lake and up in the hills (also called "Swiss Village").
Mezcala – a little island with a very interesting Mexican history. A little boat will take you across from the villages of Mezcala.
Fresh Markets in Ajijic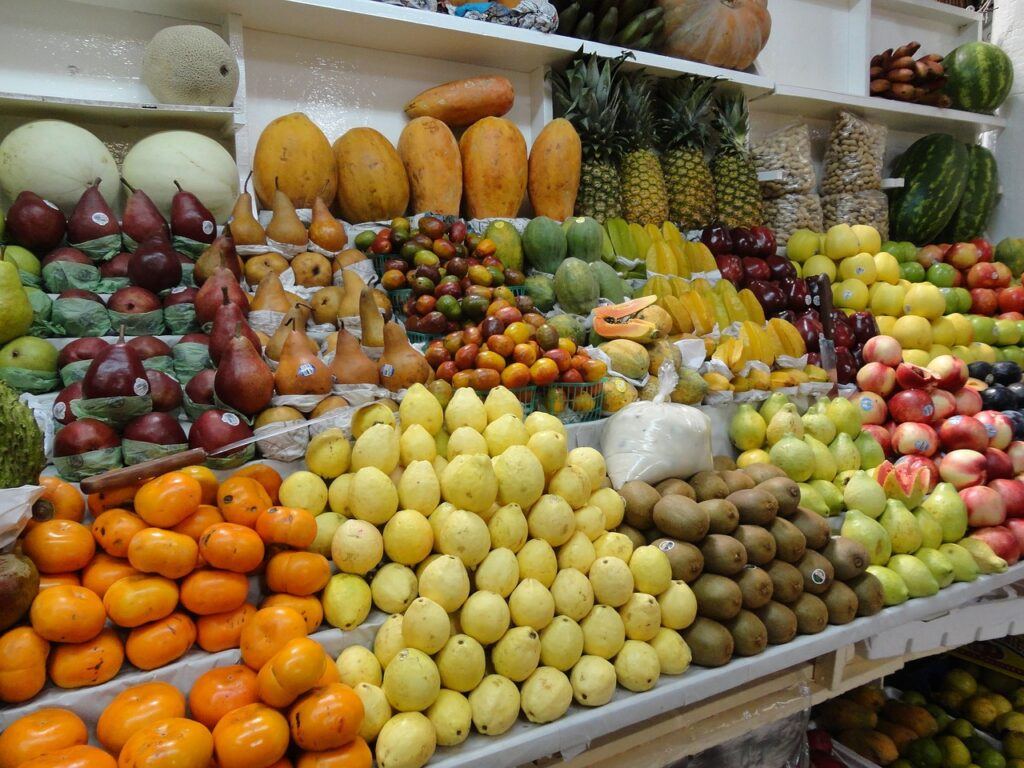 Ajijic boasts many roadside fresh fruit and vegetable stands. Most of them carry containers of blueberries, raspberries, blackberries and strawberries in addition to all the other fruits and veggies that your heart (and stomach) desires.
In addition to these stands, there is the Lake Chapala Farmers Market (Tuesday Organic Market), and the Ajijic Wednesday Market.
Lake Chapala Farmers Market
The Tuesday organic market is now in its 12th year, having started with 4 producers and 37 customers in the yard of a resident in west Ajijic. This was prompted by a desire to have organic produce and has grown to what it is today with 64 vendors.
Founding members are Joshanna Bush, Marya Fischel, Enaj L'Hommedieu, Carol Kindschi, Rebecca Lane, and Louraisha Shaw.
It is becoming a regular outing for us to get our fresh brown eggs, kimchi, and delicious berries and vegetables.  In addition, you will find baked goods, prepared food, natural skin products, homeopathic medicine, and so much more. You can even buy a coffee and treat and sit at one of the many tables available.
If you come to visit, be sure to mark Tuesdays on your calendar (9:30 to 12:30). It is truly a community event.
Ajijic Wednesday Market
The Wednesday market (tianguis) has just about everything you could want. Here you will find fresh fruit and vegetables, fish, chicken, lots of shoes, clothes (men, women, kids), jewellery, beautiful flowers, and art.
In addition to the stands, there are people who just walk around carrying their wares for sale. If you need to rest or eat, there are places to sit and enjoy the local cuisine.
The market is located on Revolution Street which is off the main street of Ajijic. It starts at the top of the street and runs for several blocks. By mid-morning, it becomes very busy.
Getting Around Ajijic
Walking
You can get around Ajijic by walking because everything is conveniently placed. It is important to have something substantial on your feet like a good pair of running shoes or sturdy sandals. That's because you will run into a lot of cobblestoned streets. The plus side is that walking allows you to see so much as you explore the area.
Biking
You can get around Ajijic by bike.  In fact, you can ride all the way to Chapala. This is probably your best bet as this is a designated bike trail and is safer due to heavy traffic during certain parts of the day.
Horseback Riding
Yes,  you can rent a horse by the hour or day and use it for transportation. Many Mexicans ride around town on horseback.
Local Buses in Ajijic
The buses run often in Ajijic, every 15 minutes or so. The fare is 8 pesos which is about 50 cents Canadian or 40 cents U.S. Senior discounts are available for those eligible with the rides being half price. The buses start at 8 am and stop running around 10 pm.
Taxis in Ajijic
The taxis are inexpensive, approximately 40 to 50 pesos. There is no meter. They can be found in the main plaza, by the kiosk, or at the church. If you are not sure of the cost, then ask before you start your journey so there are no big surprises.
Also, Uber is very popular here in Ajijic.
Cars
If you don't already own a car, you can certainly rent one from the several companies available. While I have never rented a car in Mexico, it is my understanding that U.S. or Canadian insurance is not valid. However, car insurance is inexpensive compared to U.S. or Canada. As of this writing, gas prices have gone up, the same as everywhere else.
It is good to know you can get around Ajijic quite easily and can forgo the car!
Final Thoughts
As you can see, there is so much to do in Ajijic – there is something for everyone – good food, a relaxing atmosphere, and a friendly community. If you are thinking of retiring, check it out. If you just want to experience Ajijic, come for a visit. You won't be disappointed. In our opinion, Ajijic is a great place to live!
Please follow and like us: