We are slowly getting to know the area and the best fun places to eat and hang out in Ajijic, Mexico. There are so many to choose from – in fact, I have heard there are over 180!!  I will just name five that we have visited with friends and enjoyed.
Ajijic is located in the Municipality of Chapala in Jalisco state. There are so many reasons to like it here:
A small town – population in 2020 was 11,439

The name Ajijic (originally called Axixic) means Place Where Water Flows

One of the oldest towns in Mexico, it was founded in 1531.

Khyva St. Albans was the interpreter of the Russian classical ballet and lived here

It was declared the ninth Magical Town of Jalisco on December 2, 2020, by the federal tourism government

Cobblestoned streets

Fresh organic markets

It's approximately 40 kilometres from Guadalajara airport

According to National Geographic, it has the second-best climate in the world

Everyone loves the rainy season – mountains, hills, and fauna all turn a lush green
Where to Hang Out
EL BAR CO
This is a great hangout place with a huge downstairs and a rooftop. It's perfect for a night out because of the late hours it keeps.  El Bar Co is an excellent sports bar and restaurant, and you can dance the night away with a variety of bands such as the Romeos, Tekila Blues, The 3 Amigos, Traficantes, Black Dogs, and Flashback.
Sunday afternoons are popular with live music beginning around 3 pm on the rooftop.
Anytime we have been there, the service has been great and the food delicious.
If you love to dance, hang out with friends, eat and drink, then you need to add El Bar Co to your list of places to check out in Ajijic.
Reservations are recommended for Sunday afternoons.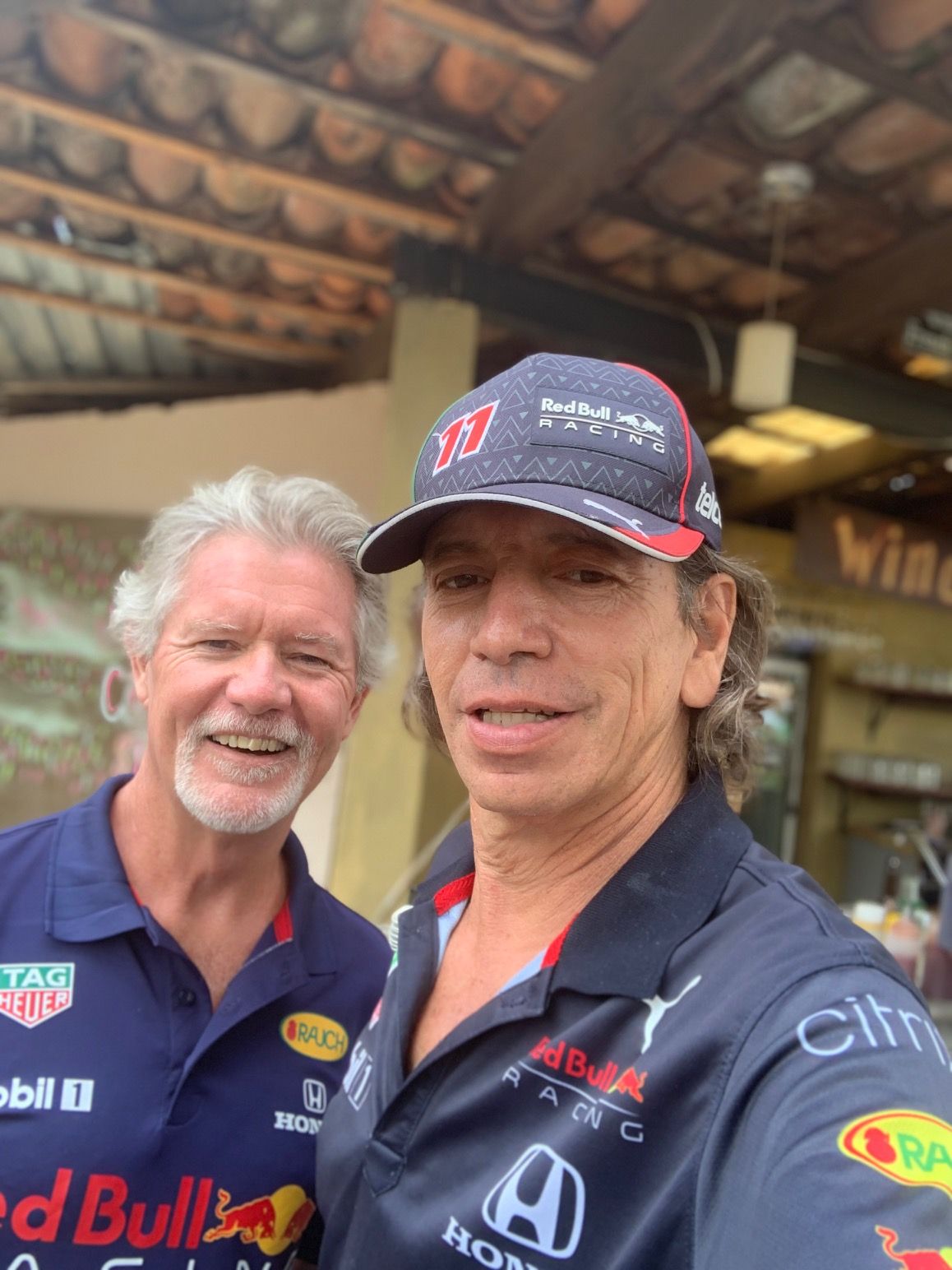 Carlos & Carlos (the owner)
Besides sharing the name Carlos, these two are Red Bull Formula 1 racing fans!
LOCATION: Oriente 33A  ((Junto a Pemex), Ajijic
Accepts Cash and Credit Cards
MEL'S RESTAURANT-BAR
If you are looking for a relaxing atmosphere, Mel's Casa Social provides spacious gardens, simple but delicious food, a happy hour, live music (Monday, Thursday, Friday, and Saturday), lots of seating, great service, and is pet-friendly. Sports and free Wifi are also available.
There is an area where you can play pickleball for beginners (lessons offered) or advanced players. Air hockey, ping pong, darts, foosball, billiards, pool, and water aerobics in the swimming pool are sure to please those who like activities.
It's also a great place to have a birthday party!!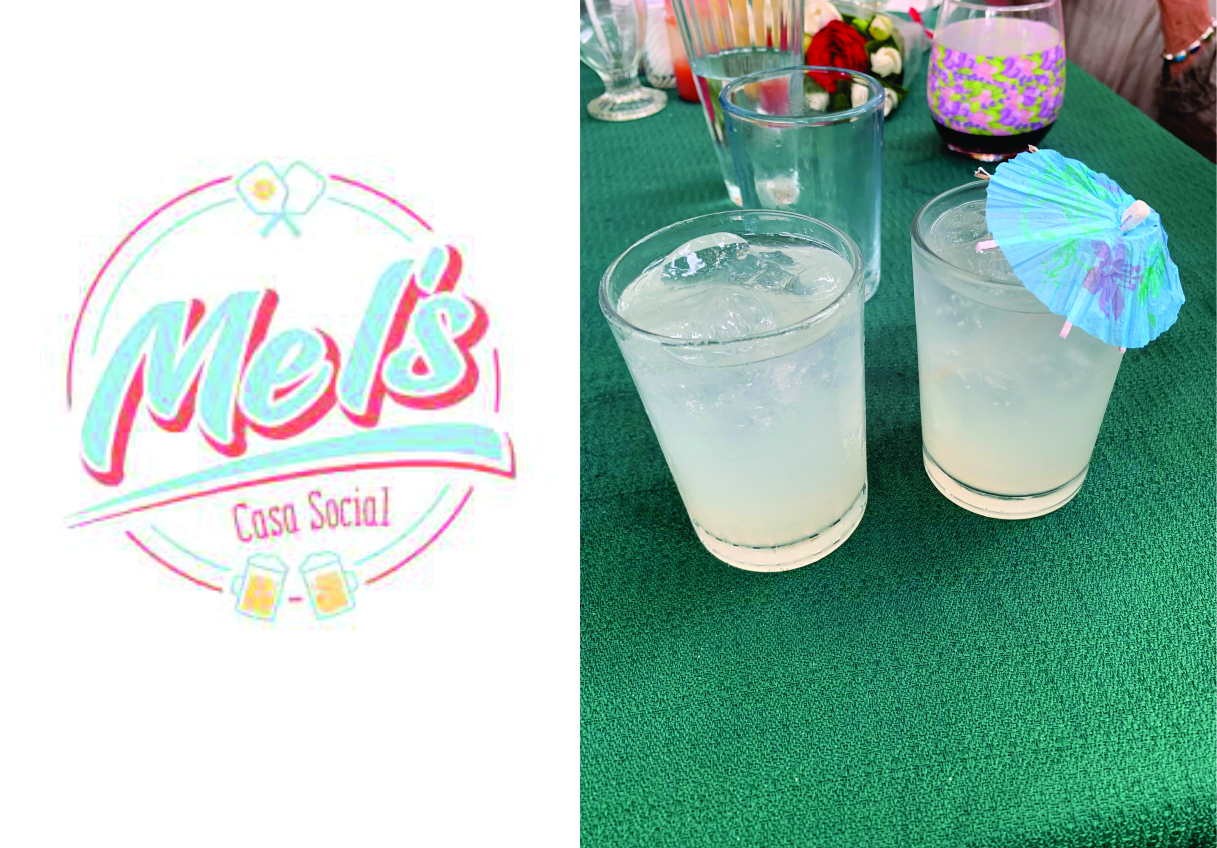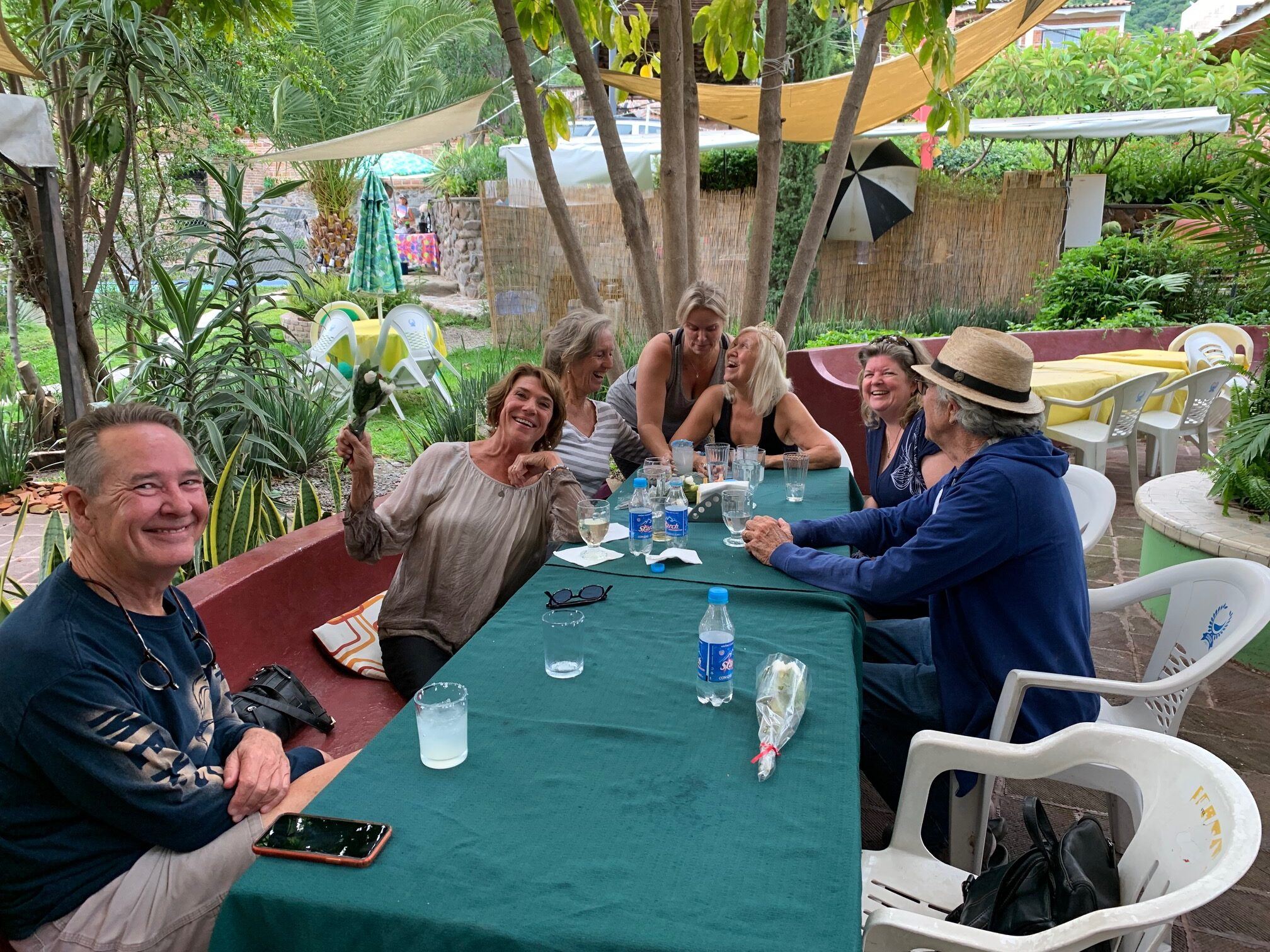 The golden crown was compliments of Mel, the owner
Get out and join the fun!
LOCATION:  Calle Zaragoza #44, Ajijic
Accepts Cash only (closed on Tuesdays)
CORAZÓN

DE MALTA
In case you don't know, Ajijic has its own microbrewery. Corazón de Malta (which means Heart of Malt) started at home making simple beer. In February of 2014, they bought their first supplies of pots and fermenters and they just keep getting better!
Popular beers include English Pale Ale, American Brown Ale, IPA, Chelita, Irish Stout, and a seasonal beer made only once a year – Wee Heavy
You can order these great malts and have them shipped directly to your door (prices include shipping and taxes – Mexico).
Better yet, stop in with some friends or family and experience one…or two of the 14 they have on tap, plus have a bite to eat!
LOCATION: Las Flores #27, Ajijic
Accepts Cash, Debit and Credit Cards
EMMANUEL'S EXPERIENCES
Having recently undergone a 'facelift,' Emmanuel's Experiences (Cantina) is worth adding to your list. A great menu, extensive bar selections, comfortable atmosphere, and very friendly, knowledgeable bar staff all make for a pleasant experience.
If you are looking for fine dining in a restaurant that offers Mexican, Italian, Japanese, Indian, and American food, then reserve your spot.
Owner Emmanuel spends a great deal of time with his staff so they understand how to prepare the food and understand the menu. It's more about the quality and not the pricing.
Currently, they are only open on the weekends.

Staff


Eating Areas
LOCATION: Carretera Poniente Chapala – Jocotepec 542 C (main street), West Ajijic (a few meters from the fresh market)
Accepts Cash and Credit Cards
DHARMA
Located along the Malecon (Del Paseo #18), Dharma is open for lunch and dinner (currently*). This restaurant/bar/café offers international cuisines and Mexican food and specializes in vegan dishes.
A variety of live music is offered such as Guevara Izquierdo, an acoustic musician with Columbian sounds, Free Travel (pop/rock music), and R&B music with Alvaro Medeles, to name a few.
Visit with family and friends, relax near the water, enjoy the music, have a refreshing drink, and dine on great food!
*Note: Big changes coming to Dharma: Breakfast, Lunch and Sunday Brunch, weekly menu delivery, as well as special events (paring, gastronomy/art experiences, tastings & workshops). Stay tuned!
Reserve your table today! Closed Mondays. Open until 8 p.m.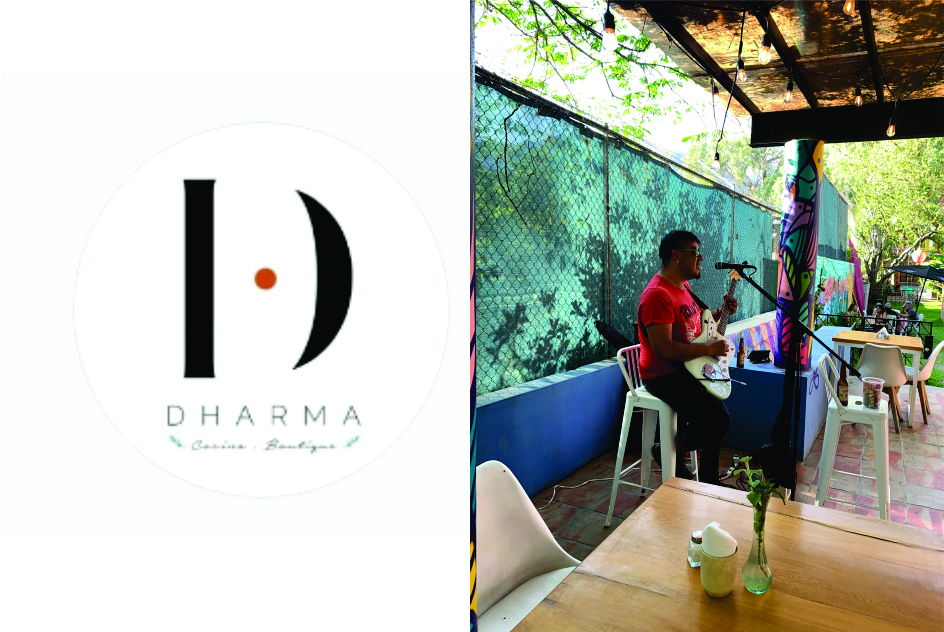 Live Music
LOCATION: Paseo #18, Malecon de Ajijic
Accepts Cash, Debit and Credit Cards
Final Thoughts
These 5 Fun Places to Eat and Hang Out in Ajijic, Mexico are just the tip of the iceberg. There are so many other cool places to hang out, fantastic restaurants for a special dinner such as D'Shanti, and lots of attractions for the whole family.
For a complete list of restaurants and attractions, check out the Lakeside Guide.
Do you have a favourite place to hang out in Ajijic? Share them with us in the comments below.
Please follow and like us: