The second trip our friends wanted to take was to the National Gallery of Canada, which is Canada's premier art gallery. This place is huge, and to really do it justice, you should visit it more than once. We were able to take a ton of pictures here, although I did run into one spot of trouble, which I will mention a bit later.
The gallery is located on Sussex Drive and has a view of the Canadian Parliament buildings.
About the Gallery
From its humble beginnings in 1880, the only item on display being a single 19th-century landscape, it now holds more than 75,000 works of art, a library, and valuable holdings.
The director and CEO of the gallery is Dr. Sasha Suda, who is the youngest woman appointed to head the gallery and believes that "what is good for art is good for Canada and the world" and that art should be accessible to all. She is responsible for providing corporate leadership and management.
The National Gallery hosts shows from all around the world, and much of its collection has been donated.
In addition to being open to the public, the gallery also holds events and activities such as workshops, lectures, and programs for kids and families.
Besides the expected art, the gallery houses drawings, sculptures, and photographs. Famous paintings include the contemporary art collection of Andy Warhol; Voice of Fire by Barnett Newman; a painting by Italian Renaissance painter Francesco Salvaiti; and the most famous painting, The Death of General Wolfe, by artist Benjamin West.
The Canadian collection, which is the most complete in Canada, features works by Louis-Phillippe Hebert, Tom Thomson, the Group of Seven, Emily Carr, Alex Colville, Jean-Paul Riopelle, and Jack Rush. I have to be honest; only a few of these are known to me: Emily Carr, Alex Colville, and Louis-Phillippe Hebert.
This giant spider sculpture that graces the plaza in front of the gallery was done by Louise Bourgeois and is known as Maman.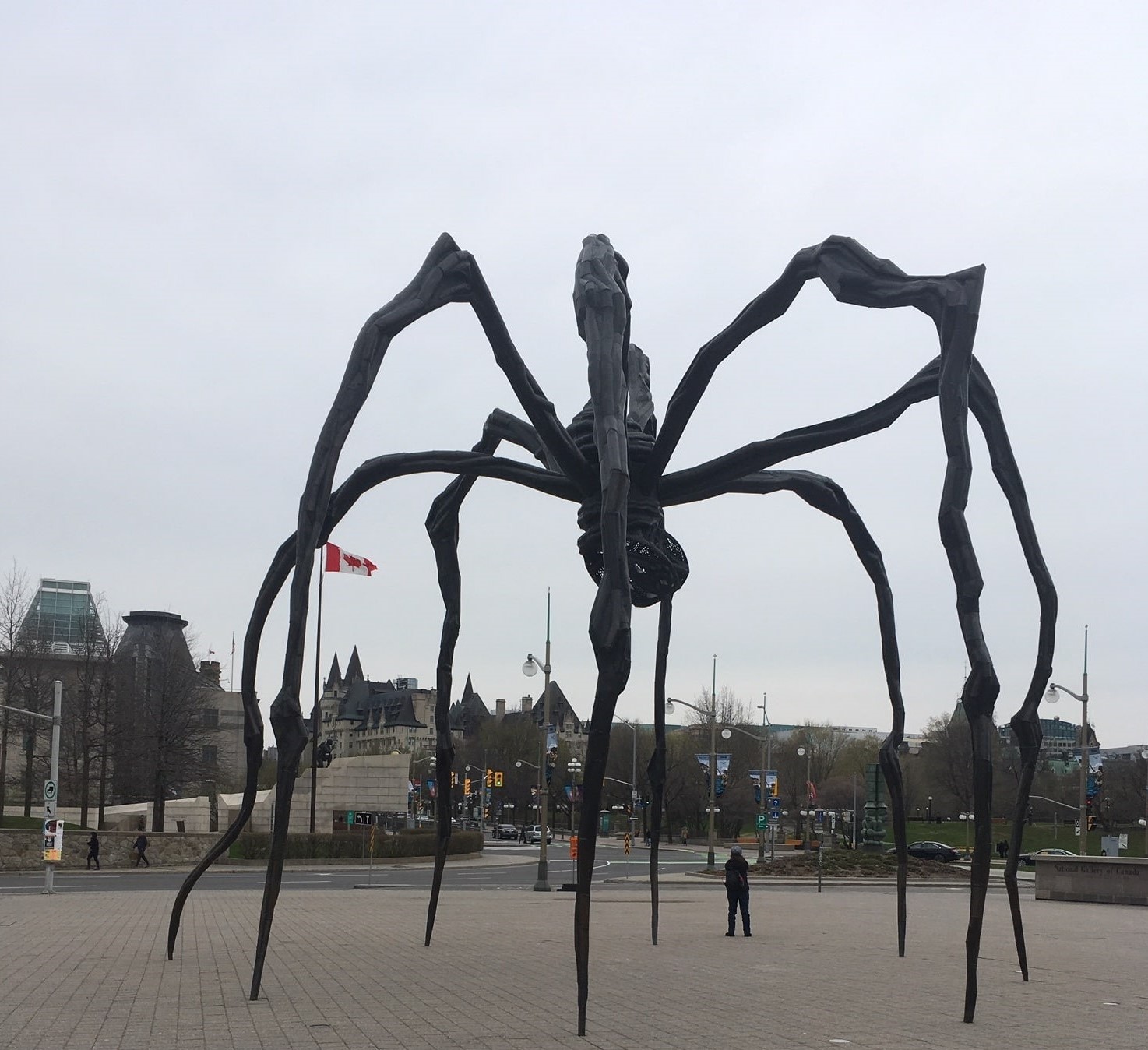 MAMAN
The Running Horses by Joe Fafard is next to the Sussex Drive entrance, and the One Hundred Foot Line stainless steel sculpture by American artist Roxy Paine is behind the gallery. Although none of us knew a great deal about the art, we appreciated all the talent that we were able to see and enjoy. One of my favourite areas inside the gallery was the Rideau Street Chapel.
Here are just a few of the photos we were able to take.
Remember when I mentioned I ran into a spot of trouble while taking photos? The one of me standing behind the curtain was a no-no, but my husband was quick enough to sneak it in before I was asked not to get inside. I guess they were concerned it could fall over, which I totally understand!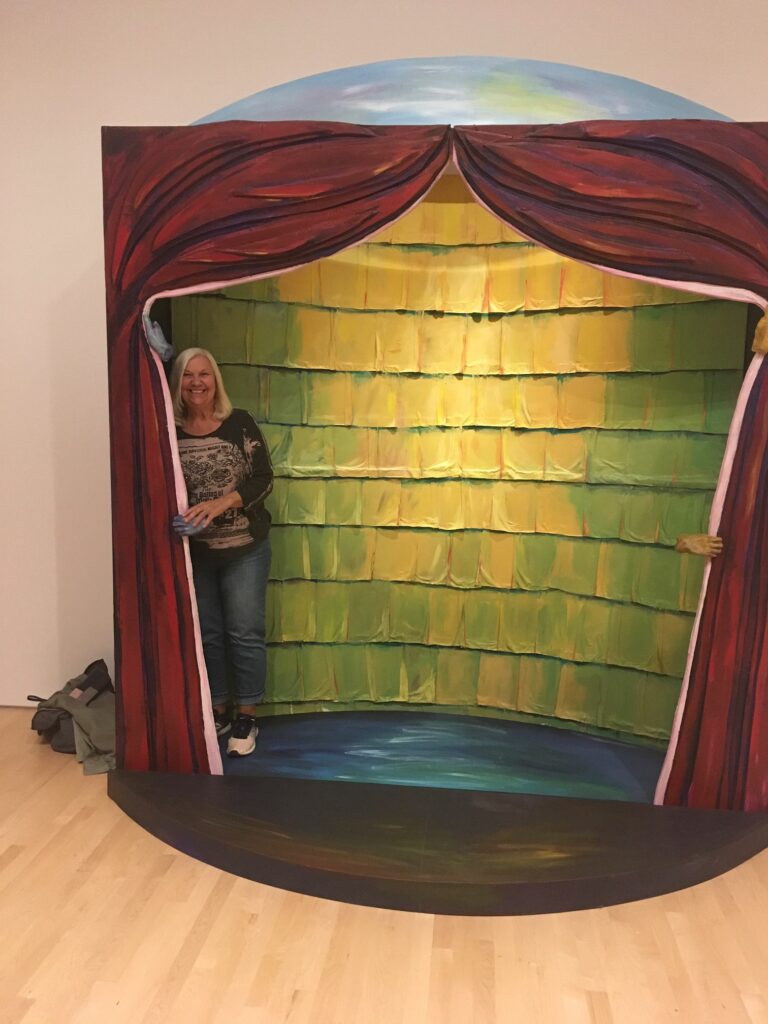 ME STANDING BEHIND THE CURTAIN
Admission
Admission includes full access to all the galleries except for the Gauguin Portraits.
Members – Free
Adults: $16 ($24 to the National Collection)
Seniors 65+ $14 ($24 to the National Collection)
24 and under to age 11 (Students require proof of age) $8 ($16 to the National Collection)
Family (2 adults and 3 youths 17 and under) $32 ($48 for the National Collection)
Children aged 11 and under FREE
Prices do not include tax
Tickets for the Gauguin Portraits are for a specific date and time and can be reserved by calling 613-990-1985 or 1-800-319-ARTS. You can also buy tickets online.
For those of you who don't want to buy tickets, you can see the National Collection for free if you go on a Thursday between 5-8 p.m. It is best to call (613-990-1985) the museum for other free admission dates, such as Canada Day on July 1, 2019.
Group tours are also available.
Transportation and Parking
For transportation information, check here. Biking is also a great option for getting around Ottawa.
Underground parking is available and costs $2.75 per half hour up to a maximum of $14 (members get a $2 discount). Parking is also allowed on nearby streets.
Final Thoughts
If you are in Ottawa, this is definitely a must to check out if you love art and browsing, but I do believe you should block several hours as there is so much to see. I hope to get back once more to see some of the items we missed the first time, perhaps on a guided tour, as I believe it is worth the admission price. In addition to all the art, the architecture is impressive. There is even a little cafe on-site to have a coffee and a bite to eat. All in all, this is a great day trip.
Please follow and like us: