Next up with our friends on our day trip in Ottawa were the Byward Market, Chinatown and The House of Targ.
The Byward Market
Would you believe that the ByWard Market (Marché By) is actually a highly sought-after tourist attraction? Here you will find shopping, dining, arts, professional services, farmer's market, artisans, over 600 businesses, as well as entertainment. During the summer months, an average of 50,000 visitors attend. It is a retail and entertainment district in downtown Ottawa. It includes the market buildings and open-air market along George, York, ByWard and William Street. The district is bordered on the west by Sussex Drive and Mackenzie Avenue, east by Cumberland Street, north by Cathcart Street and south by Rideau Street.
Hours of the different businesses vary but you are good to go if you attend between 9 am and 5 pm. If you are looking for a particular business, you can contact them through their directory.
Our friend Mandy saw some cool hoodies on sale that she wanted to buy but couldn't make up her mind! This is truly a shopper's paradise, offering just about anything you are looking for.
As of 2019, celebrations have been happening here for 193 years such as the Maple Sugar Celebration or Canada Day.
Featured events include walking tours which are conducted between June and September. During the tour, you will discover such things as how the ByWard market came to be and learn historical information. Hours are 11 am, 12 pm, 4 pm Thursdays and Fridays and on weekends (including holiday Mondays) 10 am, 11 am.
If you are a night owl, you will find many cafes, specialty food shops, restaurants and pubs with late hours to keep you busy and entertained.
Everything is accessible by foot, transit or car. Here you will find information on buses and cabs.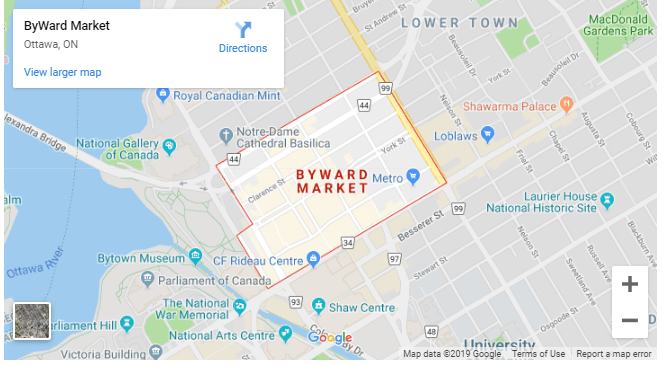 Chinatown
We didn't spend a lot of time here but found it interesting. It was bustling with lots of activity. In addition to the business and residential area, there is dining and entertainment. Merchants from all over the world are here: Chinese, Indian, Korean, Thai, Vietnamese, Spanish, Philippinos, Spanish, Lebanese, French and Middle Eastern. Whew! It was fun going to the different stores with their interesting Asian smells.
The location of Chinatown is along Somerset Street west of downtown Ottawa and runs from Bay Street (east) to Rochester St. (west). The signs for Chinatown continue along Somerset to Preston Street and many restaurants can be found further west. Originally named Somerset Heights, it became known as Chinatown in 2005.
The House of Targ
Our last stop was for pure fun. The House of Targ at 1077 Bank St., is a hopping place featuring live music, pinball, classic arcade games and a menu that includes homemade perogies with locally sourced ingredients. If you are looking for a pub, music, restaurant, and entertainment, it is all here. The owners are local musicians Paul 'yogi' Granger, Mark McHale and Kevin Birger.
We arrived in the midst of a contest so all the machines were getting a workout. As you can see from our photos, our friends had lots of fun! Keep in mind the music can be quite loud so be prepared.
Follow the House of Targ on Twitter and Facebook.
Best Place to Park
Parking is available along Sunnyside and if you choose public transit, the #6 and #7 stop right in front of the House of Targ.
Final Thoughts
There is so much to do in Ottawa that this was just the tip of the iceberg – visiting the Parliament buildings, museums, bike riding along the many trails, music festivals and concerts, sports events such as an Ottawa Senators game, skating in the wintertime at the Rideau Canal, the Haunted Walk of Ottawa, a tour of Rideau Hall (Canada's Buckingham Palace), and of course the beaches where we spent a lot of time (our trip this time lasted 4 months due to a house sit in an area that was close to everything we needed).
I think our friends enjoyed themselves. I know we did.
Have you ever been to Ottawa? What did you like the most? Be sure and let us know in the comments below. 
Please follow and like us: