Because a good friend of ours who is a comedian on Carnival Cruises was coming to port, we decided a trip to Cozumel and a day of fun was a great idea. It was just after Christmas, and we decided to meet up with him for lunch. It was the perfect opportunity to visit.
It turned out to be an amazing day!
The Ferry Ride Over to Cozumel
We caught the Collectivo bus (local bus service) in Puerto Morelos to Playa Del Carmen and then caught the ferry from there. You have your choice of two ferries to take you between Playa del Carmen and Cozumel: the Winjet and Ultramar, with the Winjet being the less expensive of the two. We chose the Winjet, and the crossing is about 35 minutes and a fairly smooth ride. We prepaid and booked online at a cost of $44 round trip for two, which turned out to be a very smart thing to do. The lines are long, and people are rushing to buy tickets.
The ferry is large and can handle up to approximately 400 passengers. Bar and snack services are available. The schedule is very good, with people arriving and leaving almost every hour. We feel it is safe and reliable.
If you decide to take the kids, you will be pleased to know that if they are between the ages of 5 and 12, the price is 50% of the adult fare.
Docking of the Ships in Cozumel
Cozumel is the leading cruise ship arrival destination in the country of Mexico. As our ferry was pulling in, we saw three cruise ships with the Carnival line. Our friend was coming in on the Horizon, one of Carnival's newest ships, and was docking a bit further down from us at another pier. It is hard to believe how huge these ships are when you see them in the distance, but up close and personal, they are very impressive.
I later checked out a few facts about the Horizon since this was the cruise ship our friend was on:
It debuted in the spring of 2018

Its capacity is 5,000 passengers

It has three pools and an adults-only Serenity Retreat

A host of activities include WaterWorks park, a Sky-Ride, mini-golf, Dive-in-Movies at the Beach Pool, a piano bar, sports bar, free games, karaoke, and deck parties

And of course, the Punchliner Comedy Club

Lots of food (drinks are extra except for lemonade, iced tea, and water)

Craft beer is brewed onboard
Cozumel
Cozumel is the largest inhabited island in Mexico and a municipality in the Caribbean Sea off the eastern coast of Mexico's Yucatan Peninsula, opposite Playa del Carmen. The municipality is part of the state of Quintana Roo (source: Wikipedia).
Tourism drives the economy of Cozumel, with visitors enjoying scuba diving and snorkelling. In fact, it has a reputation for being one of the best places in the world for these two activities. Cozumel is located on the second-longest barrier reef in the world (known as the Belize Barrier Reef) and is home to marine species such as rays, turtles and multicoloured fish.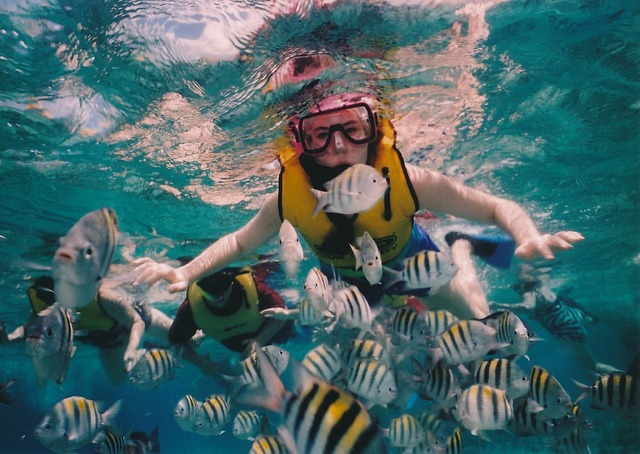 Hustling Vendors in Cozumel
The main town, San Miguel de Cozumel, is a bustling place. In fact, as we were trying to make our way to the meeting point with our friends, we were constantly accosted by business staff trying to entice us into their stores. They actually succeeded on one occasion and my husband thought I had disappeared on him!
One particular young fellow stopped me and said, "What do you use for your skincare?" and proceeded to literally pull me into his shop to give me a 'free' eye treatment (to remove my signs of aging, I guess). Five minutes later, I had beautifully tightened skin under one eye with the promise of looking like this every time I used the product. It also came with a price tag of almost $300 Canadian, but he assured me I would pay much more than that in Canada (turns out he was right).
After assuring him I would think about it, we escaped, only to be accosted a few doors down by another young fellow who asked the same question! When I told him I just had a 'treatment' he said, 'Why don't you have both eyes done? Come, I will do the other one for you." At the risk of looking silly with one eye done and the other not, we bade him a hasty goodbye, telling him we had to meet someone.
Whew!
Chalo's at Villablanca Hotel
Our lunch destination, Chalos Antojitos Mexicanos at the Villablanca Hotel, is a 10-minute taxi ride away. When we arrived, we found our friend waiting for us at a table near the pool.
He regaled us with hilarious stories of his time onboard the ships, where he has been entertaining passengers for 8 years and is considered one of the top comedians on the Carnival cruises. He certainly kept us in stitches.
Our friend, Jason, is the one in the front on the left, and that's my husband and me directly behind him.

Eventually, his other friends arrived; in total, there were ten of us, including five other comedians. They were completely relaxed, and there was much laughter and drinking during lunch. My husband, who is also a comedian, really enjoyed spending time with these guys!
The service is amazing; the comedians are well-known there and are treated royally. I had this amazing chicken dish with a creamy sauce. Yum! Before we left, we had two rounds of tequila shots sent over to our tables by the staff. Sweet! It's not hard to see why they consistently get 5-star reviews. If you like authentic Mexican food and are in the area, it is definitely worth eating there.
Time to Leave Cozumel
All too soon, it was time to say goodbye. Our friends and new friends had to get back to their ships as a few of them were performing that night, and we had a ferry to catch back to Puerto Morelos, where we were staying.
It was an amazing day and a wonderful experience. I can't wait to get back to Cozumel and check it out properly. There are so many shops to go to, as long as I remember to stay away from the beauty salons! There is also an organic coffee place, Coz Coffee, that I want to visit. Even though I have given up coffee, for now, there is always a strong possibility I may start again. I think organic is the way to go.
Have you ever been to Cozumel? What was your favourite experience?
Please follow and like us: