Do you have trouble deciding on the Best Shoes for T
ravel?
Here we are going to talk about three types of footwear that should get you through most of your travels, or even for everyday footwear and comfort. Even if you don't travel, it is important to take care of your feet!
Upon my return from a six-month stay in Mexico, a friend presented me with a calendar that featured shoes – 365 pairs of shoes. The reason for the 'shoe' calendar is that she knows I like to collect shoe and hat items. Note: I do not collect shoes to wear, just different collectibles.
This got me thinking about shoes when travelling and how they can be a royal pain. Guys, you probably throw in a pair of sandals, running shoes and – maybe – a pair of dress shoes. But ladies, how do you choose between your half-a-dozen pairs of sandals, those cute Jimmy Choos, or your designer running shoes? Not easy, is it? After all, we know different outfits call for different footwear.
The more I travel, the more stuff I want to leave behind, tired of lugging suitcases crammed with clothes and footwear, not only taking up valuable space but racking up the limited number of pounds we are allowed to carry. These days, I am all about travelling lightly and I am sure you are too!
You wouldn't think these would be such hard questions. Are you going to the beach? Are you backpacking across Europe, or are you hiking? This should really narrow it down, right? Of course, it should! But wait…what about the evenings? Going to dinner? Attending events? See, it starts to get complicated. You not only want comfort, but you want some style.
Basics on Best Shoes for Travel
For me, most of my travelling involves a beach somewhere. The good news is that even if I am going out in the evening, it is usually a casual gathering, ie. a local restaurant or some local event – no need to dress in killer (and I mean that literally) shoes, especially if the event involves a lot of standing or mingling.
So I am going to suggest only 3 pieces of footwear for you. What? Only three? I can see you shaking your head already. Just a quick note here…if you need special shoes due to foot/feet problems, then you should pack what you need to make your trip comfortable.
As noted before, men are happy with a pair of running shoes and sandals in most cases. Of course, they should also be aware of the comfort and make sure they fit properly. For example, my husband likes a sandal that actually has a covered toe part. We are including some comfortable walking shoes, exercise sneakers, and sandals for the men so please read on.
The Three I Suggest Are:
Walking shoes

Exercise sneakers – a lightweight pair is good for packing

Sandals – with or without a heel (again, depending on the occasion)
Remember, these are just guidelines. If you are going on a hiking trip, then you are probably going to pack a pair of hiking boots.
Comfortable Walking Shoes for |Travel
Whether you are going to be hanging around an airport waiting for your plane or travelling miles and miles in your car, you want your feet to be comfortable.
Bearing in mind that you want comfort as well as style, let's look at some tips on picking out good footwear.
Believe it or not, your foot actually expands during the day. Dr. John P. Fritz, Podiatric Physician & Surgeon, recommends the evening is best.
Take a tracing of your foot with you – shoes should not be shorter or narrower than your tracing.


If your footwear includes socks, then bring a pair similar to what you will be wearing. For sandals, this won't be necessary (unless you're one of those people who wear socks with sandals and in that case, we won't go there).
Try and find a salesperson to help you by measuring your feet. Even though you may have done this a year or so ago, it is always wise to do this every time as our feet change as we get older and a lot of us have one foot larger than the other. Not only that but like me, you may also develop a bunion that has to be taken into consideration when trying on footwear.
Next, stand in the shoes, pressing gently on the top making sure you have space between your longest toe and the end of the shoe (about ½").
Walk around a bit to see how they feel – because of my bunion, I have to be careful that the shoe/sandal doesn't scrape and hurt.
Don't worry if you have a 'wide' foot. Ask the salesperson if they carry footwear that is extra wide. You might have to shop around to find a pair.
Take note of how they feel. Do they have a sturdy sole with cushioning to prevent pain from sharp objects such as stones, pebbles, or sticks?
There are some keynote differences between running shoes and walking shoes, the main one being walking shoes are stiff and don't flex well so are not suitable for runners or for those that fitness walk. However, fitness walkers and runners can usually find a running shoe that will accommodate both.
Comfortable Exercise Sneakers
When travelling, I like to take advantage of exercising if at all possible. Cross trainers are good for walking, exercising in the gym, or touring around. However, if your trip is for a particular purpose, say running a marathon, then, of course, you will want to pack the proper footwear.
In addition to proper fitting, as noted in the Comfortable Walking Shoe section, some other tips to look for in an exercise sneaker are:
Lightweight – essential when packing in your luggage

A supportive shoe with a leather upper (durability)  – if your feet sweat, look for something with breathable material

Proper traction

Flexible midsole

Extra heel support

Check out popular brands for reviews
A Comfortable Daytime/Evening Sandal
Quality comfortable sandals are important. Try to stay away from the flimsy flip-flops (I have been guilty of buying those, especially when in a hurry – my feet don't thank me for this). Remember, if you are packing one good pair of sandals, it is worth your while to splurge a little.
Some tips to keep in mind when buying sandals:
Arch support (the bump in the centre of the insole) – This helps to maintain better alignment. A thicker sole, especially beneath the heel, is better than a totally flat one.

Bottoms – should be firm but flexible and provide some traction.

A little heel height is OK – Wedges are perfect because they give a little height but can be used to dress up an outfit; the chunky heel is steadier and easier to walk with than skinny heels.

Type of material – non-porous is best so they don't hold water.

Straps – A sandal with a back or ankle strap will provide more support and keep your feet from sliding or trying to grip the shoe so it doesn't fall off. Constantly gripping the shoe can cause bunions or hammertoes. Wider straps will provide more stability and prevent blisters.
Improper sandals can lead to foot, knee, and ankle pain as well as plantar fasciitis (inflammation of the fibrous tissue along the bottom of the foot that connects your heel bone to your toes) which can cause severe heel pain.
Now for the fun part – SHOPPING!
WOMEN'S WALKING SHOES
VIONIC WOMEN'S WALKER
An incredibly comfortable shoe that you can wear anywhere is given a traditional athletic style by waffle-knit insets, pieced leather, and racing-strip lacing anchors.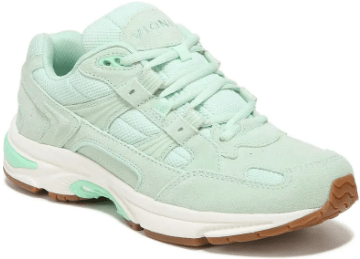 FEATURES:
*Lace-up style
*Removable contoured insole with arch support
*Leather and synthetic upper/textile lining/synthetic sole
OLUKAI PEHUEA SLIP ON
Slip into casual comfort with these classic breathable shoes featuring elastic goring at the vamp and a removable dual-density footbed.
 FEATURES:
*Versatile Drop-In Heel for functionality
*Elastic goring at vamp
*Breathable mesh upper
*Textile upper and lining/rubber sole
*Removable dual-density footbed
MEN'S WALKING SHOES
CLOUD 5
In a hybrid running/lifestyle shoe that lasts the distance on the road, in the game, or around town, runner-tech performance meets all-day comfort.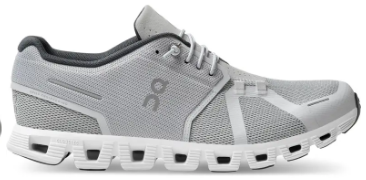 FEATURES

*Absorbs impact and distributes weight
*Removable, cushioned insole for custom orthotics
*Zero-Gravity foam for a cushioned landing
*CloudTec® sole
*Synthetic and textile upper/textile lining/rubber sole
MEPHISTO MATCH WALKING SHOE
For the best in breathability and durability, grain leather is used in the hand-crafting of this walking shoe by skilled artisans.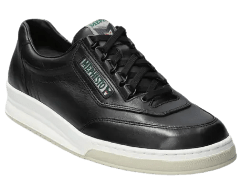 FEATURES
*Removable insole
*Leather upper and lining/rubber sole
*Padded topline and tongue to reduce pressure points
* Made in Portugal
WOMEN'S EXERCISE SNEAKERS
RYKA DEVOTION X
With this high-end walking shoe's breathable mesh upper and RE-ZORB® shock-absorbing footbed, you can step up your workout regimen.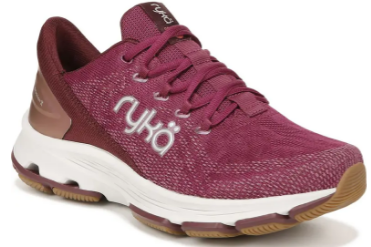 FEATURES
*Cushioning: absorbs impact and distributes weight
*Lightweight for streamlined comfort
*Targeted cushioning and support
*Breathable mesh ventilation for cooling comfort
*RE-ZORB® responsive cushioning
*Removable, cushioned insole with arch support
*Textile upper and lining/rubber sole

MEN'S EXERCISE SNEAKERS
RINCON 3 RUNNING/TRAINING SHOE
Ideal for running or training, these have excellent cushioning, a fit that is secure in the midfoot and breathable in the forefoot, and streamlined comfort.
FEATURES
*Superlative cushioning
*Lace-up style
*Lightweight
*Removable cushioned insole
*Meta-Rocker technology
CLOUD x3 TRAINING SHOE
A training shoe that stays up at any intensity lets you transition seamlessly from squats to sprints to circuits thanks to responsive cushioning and solid support.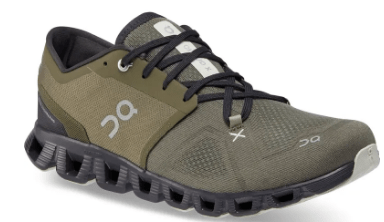 FEATURES
*Cushioning and uninhibited range of motion for multiple exercises and activities
*Pull-on style with elastic laces
*Removable, cushioned insole allows for custom orthotics
*Speedboard™ construction moves naturally with your foot
*CloudTec® sole
*Textile and synthetic upper/textile lining/synthetic sole
WOMEN'S SANDALS
CLARKS

®

MARITSA LARA SLINGBACK SANDAL
These beautiful sandals come with cross straps to shape the front of a comfortable slingback sandal ramped up slightly on a retro-inspired rocker platform with a grippy rubber tread. Excellent reviews.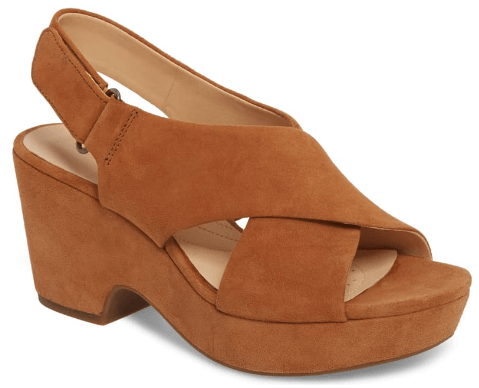 FEATURES
*OrthoLite® cushioned footbed
*3" Wedge heel
*Adjustable slingback strap with hook-and-loop closure
*Leather upper and lining/synthetic sole
*Available in 5 beautiful colours

OLUKAI OHANA SANDAL
These beach-ready flip-flops are handcrafted with a water-resistant strap and quick dry-lining. With 1500 reviews, you can't go wrong.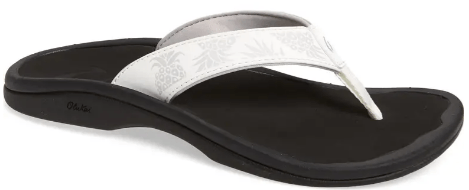 FEATURES
*Lugged treads
with wet/dry traction
*Water-resistant strap
*Quick-dry lining
*Molded anatomical EVA midsole with ICEVA drop-in footbed
*Synthetic upper/textile lining/rubber sole
*Variety of colours and sizes
MEN'S SANDALS
ECCO 'YUCATAN' SANDAL
Very comfortable sport sandal, lined with neoprene for a secure fit and polyurethane sole which offers durable comfort and support. Excellent reviews.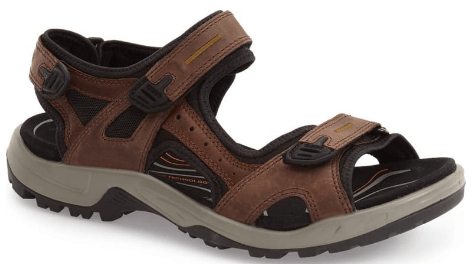 FEATURES
*Lined with neoprene for a secure fit
*Polyurethane sole for durable comfort and support
*Seal of Acceptance by the American Podiatric Medical Association
*Adjustable hook-and-loop closures at the toe, instep and ankle
*Leather and textile upper
OLIKAI OHANA FLIP FLOP
Not only are these sandals classy looking for the beach, but they also offer comfort with a cushioned anatomical footbed. Easy to care for, these sandals have excellent reviews.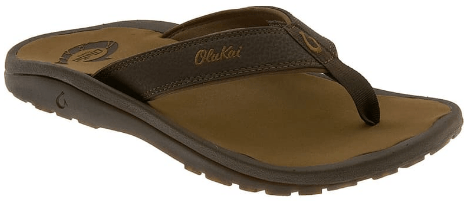 FEATURES
*Cushioned anatomical footbed
*Machine washed for easy care
*Synthetic upper/textile lining
*Rubber sole
BONUS: BEST SHOES FOR TRAVEL
We are sneaking in a couple of boots just in case you like to top off your outfit with a pair of boots instead of sandals.
WOMEN'S BLONDO VALLI 2.0 WATERPROOF BOOTIE
A Nordstrom exclusive, these stylish boots have been updated to ensure comfort and flexibility for year-round wear.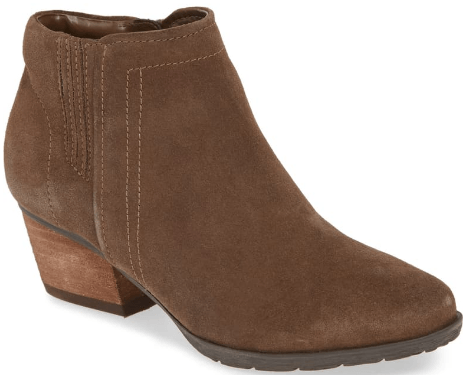 FEATURES
*2" heel
*4" inch shaft
*Side zip closure; elastic gore inset
*Removable cushioned insole
*Leather upper/textile lining/rubber sole
MEN'S 6″ TIMBERLAND PREMIUM WATERPROOF BOOT
This boot is composed of sturdy, premium leather, waterproof seam-sealed construction and lightweight PrimaLoft® insulation to keep you one step ahead of the elements.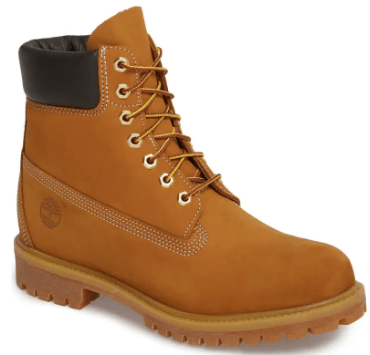 FEATURES
*Waterproof
*Lace-up style
*Removable insole
*400g PrimaLoft insulation
*Leather and synthetic upper and lining/rubber sole
Note: In most cases, these shoes can be shipped to Canada, U. S., and Mexico.
Final Thoughts
I think you can agree that it is important to buy proper footwear and be kind to your feet. Sizing and quality are important but you don't have to break the bank to get them. The bottom line is that you want the best shoe that you can wear all day or evening in comfort and style. Even if you have to splurge a little, you will be glad you did.
What shoes have you packed for your trips? Were you happy or would you have done something differently? We would love to hear your comments.
Please follow and like us: