Last year while in Mexico, our property manager Gladys along with her husband Samuel (who are also our friends), treated us to an all-inclusive full day at Xel-ha (sometimes pronounced "chel-ha" or the Spanish "ʃel'ha").
What an amazing time; it was like being at a resort for a day, food and drinks included.
Xel-ha is located in the Riviera Maya, Quintana Roo, Mexico, and since 1995 has been a big tourist attraction for families. The ancient Mayas named this site Xel-ha which in their language means "where the water is born."
According to ancient legend, the Mayan Gods wanted to join their wisdom, illusions and love for beauty and nature in one place. The Gods were so pleased with this place that they allowed entry to all humans and appointed three guardians – Huh, the Iguana who was Guardian of the Land; Chuc Kay, the Pelican who was Guardian of the Air; and Kay Op, the Parrotfish who was the Guardian of the Water – to protect and care for the park and all who visit.
Today, it is believed that these guardians still protect and care for all the visitors who come to the Park.
At Xel-ha, there are water activities, ecological attractions including jungle trails and lots of flora and fauna, 4 restaurants where you can taste traditional Mexican dishes and enjoy a cocktail, beautiful parrots and even hammocks to relax in or to take a break from roaming around the area. If you are into zip-lining and snorkelling, you won't be disappointed.
We really loved floating in the water on the big inner tubes, just laying back and relaxing. I am not a swimmer but with my life jacket on, I felt quite safe and secure.

In the Park
The Beautiful Macaws
One of the Pathways
Stone that Predicts the Weather
Hubby and I Clowning Around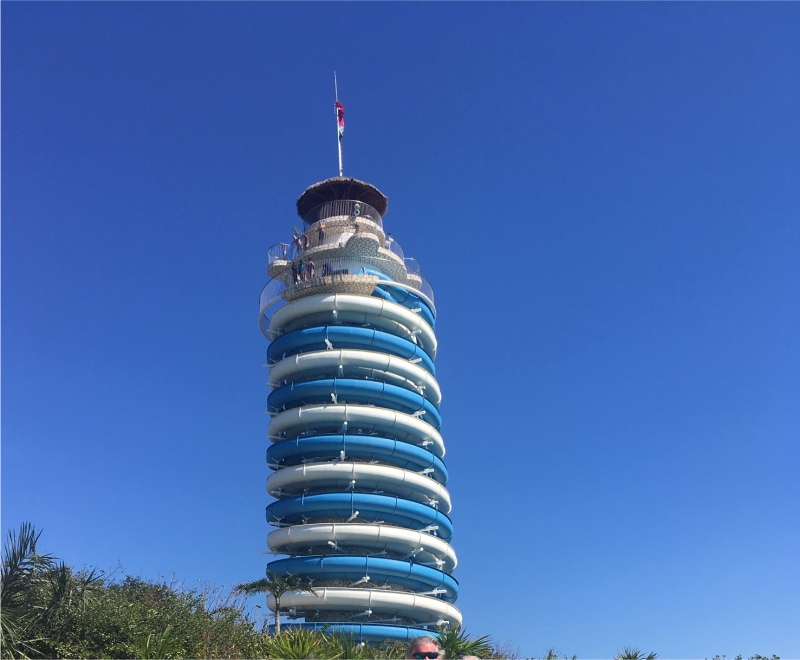 My husband and our Friend Samuel Loved this Waterslide!
Our View Just Before Leaving
Facilities and Amenities
Unlimited snorkelling

Wheelchair rentals (extra cost)

4 Restaurants (breakfast served from 9:30 a.m. – 11:30 a.m.) as well as lunch and snacks

Bars – Domestic open bar and unlimited non-alcoholic beverages

Free Wifi

Water equipment

Inner tubes for floating down the river; life jackets

Scenic lighthouse  – 131 feet (40 m) high

Lockers, restrooms and showers in several locations

Shops in several locations including souvenirs and pharmaceutical products; ATM

Photo opportunity (additional cost)

Hammocks where you can relax and enjoy your drink

Zip Lining

Hikes on the different jungle paths; bicycles

Cenotes and coves

The Meliponary* (Melipona Bee – the Mayan's Sacred Bee) and Nursery

Children's playground with special activities

Free Parking

The Meliponary (Melipona Bee – the Mayan's Sacred Bee) and Nursery
Ancient Mayans have always considered that honey from the Melipona bee had healing properties for many conditions and still believe that today. Beekeeping is very important in Xel-ha and harvesting is done twice a year during the full moons in June and December with both an astrologer and a Mayan priest in attendance. There is also music, flowers and traditional altars ending with a sacred feast.
How to Get to Xel-ha
Xel-ha is located in the state of Quintana Roo, Mexico and is 110 km south of Cancun, 9 km north of Tulum ruins and 40 km from the Coba ruins.
To get there, you can rent a car, take a taxi or the ADO bus.
ADO Bus Schedule: Playa del Carmen 5:40 p.m. and 6:05 p.m.; Cancun 5:45 p.m. and 6:10 p.m. Times may vary because of the season. When you are ready to leave, no need to have advance tickets – you can buy your return bus ticket when boarding the bus.
Final Thoughts
Make a day of it – start with breakfast, do some snorkelling or zip-lining, walk the jungle paths, check out the water slide, have some lunch and end the day relaxing in one of the hammocks in the shade of a palm tree with a beverage in hand.
If you love adventure, check out EXPERIENCIAS XCARET PARQUES for other great day trips!
We really enjoyed our day there with Gladys and Samuel who run Try It Puerto Morelos, and plan to bring friends for a return trip this November.
Here's a 30-second video showing a little of the beachside of the park.
As much as we enjoyed our day at the Ruins, this came a close second for us, especially as we spent the time with great friends.
Have you been to Mexico? What was your favourite thing to do there?
Please follow and like us: