When you are travelling, there are so many things to think about such as hotel accommodations, using a house sitting service, what travel guide books to read, car rentals, and comfortable shoes to pack.
Here are a few resources that we hope can help you.
This content uses referral links. Read our disclosure for more info.
Booking.com was established in Amsterdam in 1996 and has become one of the largest e-commerce companies in the world, employing more than 17,000 employees in 198 office in 70 countries.
Their mission is to provide travelers with places to stay which includes apartments, vacation homes, family-run B & B's, 5-star luxury resorts and even tree houses! Their website and mobile apps are available in over 40 languages and are available 24/7 for assistance and support.
At booking.com, there are no booking fees and they will price match. Check it out her

e.
Trusted House Sitters is based out of Brighton, Sussex, UK and was launched in 2010. Co-founders are Rachel and Andy Peck. 
The purpose of this company is to allow pets to stay safe and happy in their familiar surroundings. 
It is the largest company in the world; a one-time fee covers you for the whole year; there is an IOS app; the house sitter has an opportunity to see the world while the owners can travel with peace of mind making this a win/win situation for all.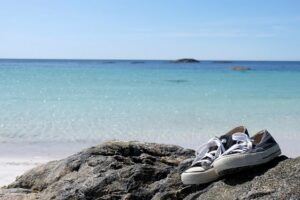 Having comfortable footwear is so important when you are travelling – whether you are in your car for hours, at the airport or planning a lot of walking during your vacation. In our post, Best Shoes for Travel (what to pack)
, we give you many options – comfortable walking shoes, training shoes and sandals for daytime or evening – for men and women.
On The Road first appeared in 1957 with a fictionalized account of the author's (Jack Kerouac) journey across America as Sal with his friend Neal Cassady as Dean. This book is now considered a classic.
His journeys with Neal take them from New York to San Francisco, and then south to Mexico. Leaving behind a conventional society, they encounter hobos, drifters, fruit-pickers and migrant families in small and big places where they party and make friends along the way.
On the Road has influenced an entire generation of musicians including Bob Dylan, Van Morrison, Jim Morrison, poets, actors and musicians including Allen Ginsberg.
Mark Adams recounts his adventures in travelling to the Inca ruins and ancient cities of Peru to retrace the path taken by archaeologist Hiram Bingham, filled with peril and unaccustomed sleeping arrangements by sleeping in a tent for the first time.. 
This book is filled with visions of beautiful, historic landscapes in Peru and will teach you a lot about Peru including 'what is Machu Picchu?'
The Beach was written by English Author Alex Garland in 1996 and is set in Thailand. After discovering what seems to be an Eden paradise, Richard, a young backpacker, searches for the idyllic and isolated beach but soon finds out that everything isn't as it seems.


This novel has also been adapted into a movie starring Leonardo DiCaprio.
A highly recommended book, the Alchemist is a classical masterpiece and one of the most read books today with over two million copies sold around the world. It is the story of a young shepherd boy named Santiago, who travels from Spain to Egypt to follow his dreams. 
It teaches us about listening to our hearts and following our dream in spite of difficulties along the way.
If you are someone new to travelling, this is a must-read for you. This book is about taking time out of your normal life and discovering the world and its wonders on your own terms.
Potts will give you details on how to finance your travels, determine where you want to go, how to adapt to life while travelling and how to deal with the reality of getting back to a normal life.
Frommer's Guides cover just about any destination you want – North American, European, other destinations such as New Zealand and Israel, from suggested itineraries  to hundreds of reviews.
Frommer's Italy 2019 will walk you through the ancient ruins of Pompeii, along the canals of Venice, the Renaissance masterworks in Florence, Puglia and the live la dolce vita in Rome, in addition to the vineyards of Tuscany. Included in the guide is a detachable foldout map and full-colour photos, detailed itineraries for planning your trips, candid reviews of restaurants, historic sites, museums, tours, etc., up-to-date information on transportation, and ways to save money. For guide selections to other places, you can check out this

website.
LONELY PLANET – BOOKS, EBOOKS AND DIGITAL

CHAP

TERS
Buy from a comprehensive range of country, multi-country, region and city guides, including the new best-selling JAPAN GUIDEBOOK. Plus pictorials, travel reference titles, activity guides, language guides and beautiful coffee table tomes. BUNDLE up any combination of print editions, eBooks or individual chapters and print+digital bundl
Cheap flights from Toronto with Skyscanner
If you are looking for the best prices for your travel options, Started in 2003, Skyscanner is a leading travel search site. Skyscanner is free to travellers and does not charger a travellers' commission. They started out as a flight search engine but are now considered a world leader in travel with over 100,000 milllion people using their app and website.
If you are a Skyscanner user, you will be happy to know they have made some changes. They continually focus on providing the best choices and comparisons, convenience and services for flights, hotels and car rentals. It is part of their mission to exceed your expectations.