We happen to be in Puerto Morelos, Mexico, caught here when people started panicking and returning back to Canada and the United States. Our airline stopped flying and gave us a full credit refund to be used in the future. We had a flight booked back to Canada for June 6th but on April 22nd, it was cancelled by the airlines and we had to rebook to July 4th. It is now a waiting game.
For us, it was a toss-up – do we stay here and risk not getting medical help when needed or fly back to Canada, standing in a crowded airport and sitting in close proximity to others on a plane, placing ourselves and them at risk? We chose to stay here for the moment, however, we are experiencing tough times in Puerto Morelos, Mexico.
With the onset of COVID- 19, tourists and ex-pats left Mexico in droves, afraid they might not get back to their homes.
Locally,  restaurants are only providing delivery and at a set time during the day. Grocery stores are only open during the day, until six at night. Small produce markets and ferreterías (hardware stores) can only serve two or three people at a time. Many small businesses are closing their doors. Even some of the small clinics appear to be closing, which might not be a good thing.  Our thriving beach here in Puerto Morelos where we are staying has been closed for several weeks. Masks and bicycles are prevalent.
Amid the panic and fear, rumours abound because people are seeking their information from social media and others instead of trusted sources.
What is the Government Doing?
The Mexican Ministry of Health continues to publish updates on the number of cases at the national and state levels.
The Mexican government is making its plans based on three scenarios for COVID-19:
Scenario 1 – Cases are travel-related (from abroad)
Scenario 2 – Community-based transmissions begin and case numbers are in the hundreds
Scenario 3 – Transmission becomes widespread and case numbers are in the thousands
As of April 17th, we were in Phase 2 although our case numbers were topping 8,000. As of April 25th, we have officially (entered phase 3 with cases topping over 12,000 with over 1200 deaths.
NOTE: AT TIME OF PUBLICATION, THE REPORTED NUMBERS FOR ALL OF MEXICO ARE AS FOLLOWS:
Total Cases – 12,872

Total New  Cases – 1,239

Total Serious Cases – 378

Total Deaths – 1,221

Total New Deaths -152

Total Recovered – 7,149

Total Active Cases – 4,502
These numbers are changing daily.
Other Measures Implemented Until May 30th
All schools have been closed since March 20th

The suspension of all non-essential activities in the public, private or social sectors – essential includes medical, public safety, necessary economic functions, government social programs and critical infrastructure.

Suspension of meetings of 100 participants or greater (this seems still too many people to me and contradicts the above statement with regards to non-essential activities unless they are referring to essential meetings?)

Encouragement of frequent hand washing and social distancing

Encouragement of voluntary home isolation for those not needed or involved in essential services

Strict home isolation of persons 60 and over or with high-risk medical conditions

Guidelines will be put in place for a staggered and regional return to work and social activities

Postponement of anything to do with elections, census and surveys
Since states and municipalities have the discretion to implement closings and/or restrictions on public activities, business and government operations, they suggest you confirm directly with the government or other trusted source to find out how your state/municipality is handling these activities.
Quarantine Measures
Mandatory quarantine policies are not in effect in Mexico for those confirmed or suspected cases although it is 'encouraged' they stay home for 14 days. Therefore, a traveller coming into Mexico is not mandated to go into quarantine (Isn't that like putting the cart before the horse? Isn't the purpose of quarantine to rule out the possibility of the virus?).

The Government advises people to not seek out COVID-19 testings. Rather, if you have severe symptoms and travel history or have come in contact with a known case, then you should seek medical attention at which time you will be given a test.

If travellers returning from a country where COVID- 19 is active and they develop respiratory systems, they should seek immediate medical attention.

If an individual has been in contact with a confirmed case and show symptoms, they must seek medical attention immediately.
Here in Puerto Morelos
Quintana Roo (officially the Free and Sovereign State of Quintana Roo) is one of the 32 states which comprises the federal entities of Mexico. It consists of 11 municipalities with its capital being Chetumal.
Puerto Morelos is a town and seaport in Quintana Roo, about 36 km south of Cancun and about 30 km north of Playa del Carmen. It is also a favourite of ex-pats.
The Governor of Quintana Roo, Carlos Manuel Joaquín González, and our Mayor of Puerto Morelos, Laura Fernández Piña, seem to be taking this more seriously than the President of Mexico who appears to be taking a lax approach to the seriousness of COVID-19.
Due to officially being in Phase 3, the major is instructing the following:
permanent closure of roads throughout the municipality to inhibit vehicular circulation and that only those in need of food or medicine go out

24-hour pharmacies cannot sell non-health products after 6 p.m

Hardware stores,  although essential will not be able to sell construction material

Only one person per family to enter supermarkets (originally the Mayor stated no one over 50 would be allowed in a grocery store but this appears to have been rescinded)

Strict restrictions on public transport to avoid contact between people who are working in an essential service

No one is to be in the municipal parks, no exceptions allowed

Quintana Roo Police of Puerto Morelos and Inspection personnel will be doing extra surveillance and that those who do not obey the rules are subject to arrest, administrative sanctions and closures
At the moment, Puerto Morelos has no reported cases of COVID- 19. The Mayor is quoted as saying, "The priority right now is to save lives and to protect the most vulnerable. Today's sacrifices will be tomorrow's rewards."
Puerto Morelos had an estimated 1,000,000 visitors in 2018 making it a record-breaking year with many staying longer than ever before.
The Economy
Tourism is one of the economic backbones of Mexico. The country is a favourite of ex-pats from all over the world. Over 32 million citizens from the U.S. and 1.92 million from Canada travelled there last year. Revenue from tourism was at 22.51 billion U.S. dollars in 2018.
As of April 3rd, hotels must cancel new and existing reservations and close for non-essential business.
All accommodation services will not receive reservations and will reschedule existing ones. These include hotels, hostels, travel agencies and online platforms.

To carry out essential business duties, accommodations will be available in hotels but with a maximum occupancy of only 15%.

Non-resident foreign citizens in hotels must start the process of returning home immediately.
According to Mexico News Daily, more than 1100 hotels across Mexico are temporarily closing and more will follow!
22 major resorts that expected to re-open in mid-May are now staying closed until at least July 1, with a few exceptions.  Thousands will be out of work!
Because of COVID-19, 18 million jobs across Mexico are at risk with the most vulnerable sectors being trade, restaurants, transportation, and tourism. It is estimated that in Mexico City alone, at least 10% of businesses will close.
The president of the Confederation of Chambers of Commerce Services and Tourism (Concanaco) has said that 65% of businesses are closed across the country and many of them won't survive the closures.
Once the emergency is over, it is expected the loss in tourism revenue could be between 172.9 and 239.2 billion Mexican pesos. Depending on the currency exchange, this would be roughly between 7.2 and 10 billion U.S. dollars.
How We Are Doing
We are thankful that we have money coming in and that we are able to eat and have a roof over our heads; so many here have lost their income – just ordinary folks living day-to-day. Still, they are resourceful people and many will create income for themselves.
We don't go out much – if we do, it is to go to the grocery store or to buy some fruits and vegetables.  I seem to be making a lot of soups, rice and pasta dishes! We do order once or twice a week to support the owners of our local restaurants who are open and struggling. This gives us the opportunity to discover new places –  an Indian restaurant, a new pizza place, a crispy chicken place, and of course, our favourite place which serves Rib-Eye Tacos is at the top of our list!
We have a favourite produce/fruit business we frequent and where we also get our eggs. And yes, we are wearing our masks!
Sometimes we ride to the beach just to get out and notice how eerily quiet everything is, especially with the closing of all the beach bars.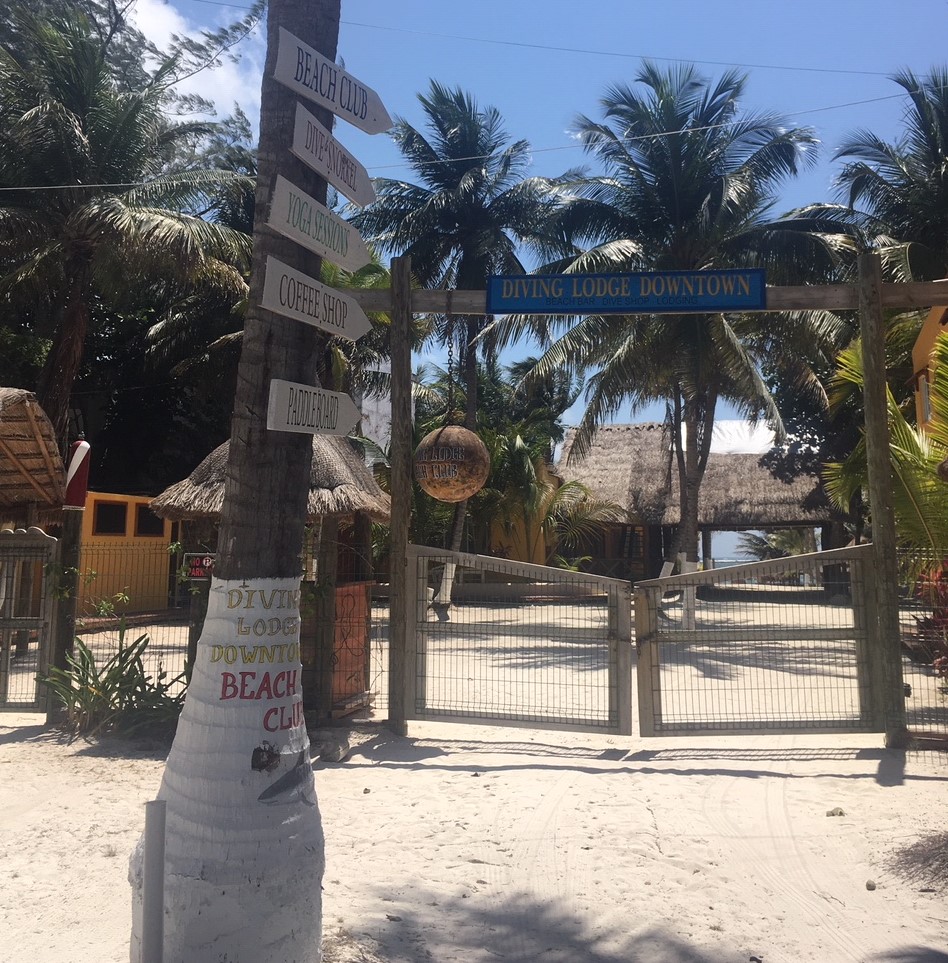 Diving Lodge Downtown, Puerto Morelos Beach
If you see someone, chances are they are wearing a mask. It is not unusual to see police out and about, requesting people to leave if they don't have a valid reason for being there. Loitering is discouraged, however, we still see groups of people out and about – I guess they are not overly concerned.
Most of the time, we are inside working away on our laptops. Every day, around 5 pm, we take our little table and chairs from the backyard and sit on the front lawn, people watching, and to get a natural dose of Vitamin D… it can't hurt, right?
Sometimes we get a little crazy, such as listening to some energetic music and dancing on the lawn.  Even though we are socially distancing, I think we have smiled and said hello to many more people in our complex during this time than the whole time we have been staying here.
They stop and chat for a few minutes about what is happening around us. We even have the occasional monkey stop by!
Yes, we are in the midst of tough times in Puerto Morelos, but we are all in this together; it certainly is a time for reflection.
Resources:
The Mexican US Embassy and COVID-19 Information (changes daily).
If you are a Canadian in Mexico and need assistance, contact information is available here.
If you are a US citizen in Mexico and need assistance, contact information is available here.
Are you here in Mexico? What are your thoughts? Let us know how you are doing in the comments below.
Please follow and like us: