One of the planned trips we intended to make in April before our scheduled return to Canada was to Isla Holbox, Mexico.
Then the pandemic hit us. We stopped making plans and ended up staying in Mexico well beyond May. In July, when a few things started opening up, we decided to make this one trip with some friends. We are so glad we did!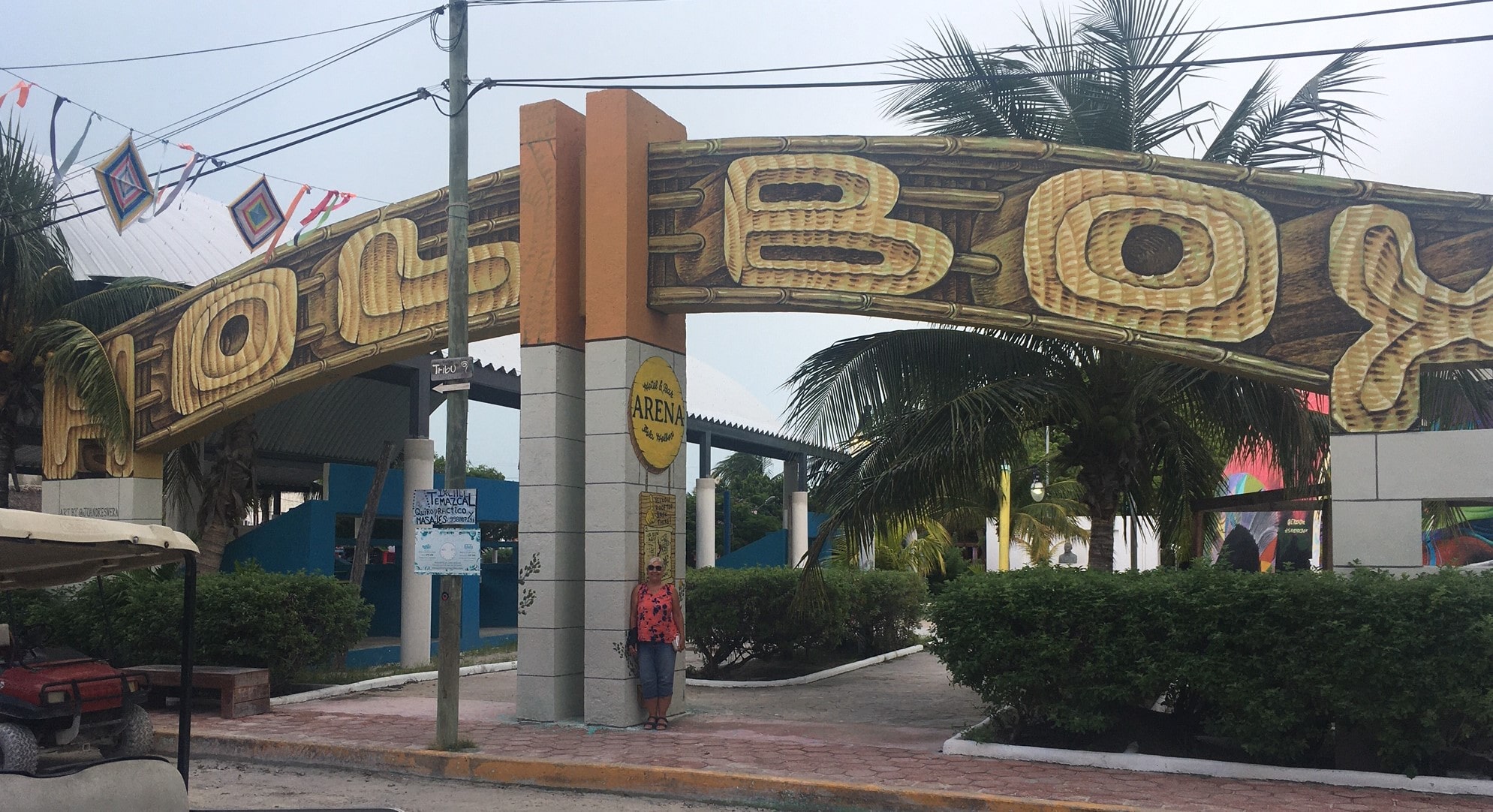 Isla Holbox
Pronounced Hole-bosh, it means 'black hole' in the Yucatec Maya language; the island is located on the north coast of the Yucatan Peninsula in the Mexican State of Quintana Roo. This little island is approximately 26 miles long and 0.9 miles wide.
While mainly relying on its fishing industry, particularly lobster, it is starting to become a tourist attraction offering such excursions as whale shark viewing, and the Bioluminescence in Punta Cocos.
It is home to flamingoes, pelicans, herons, and a few other birds that I did not recognize (in fact, there are 150 species of marine birds on the island). Points of interest include Bird Island (Isla Pajeros), Yalahau Cenote, Passion Island, busy beach clubs, local stores, and restaurants – some featuring lobster pizza – a must to try!
Kiteboarding is also popular, and professional instructors are available at a nearby school for those wishing to learn.
The island is accessed by ferry and vehicles are not allowed in order to protect the environment; the main means of transportation on the narrow dirt roads are golf carts, mopeds, and bicycles. A small airline, Flights Holbox, services the area flying tourists to Holbox from Cancun and Playa del Carmen.
There are no cars, banks, post offices or tall buildings. Although electricity is available, a few places have it turned off in the mornings and wifi is hit and miss, especially on rainy days.
Hurricane season can wreak havoc on the island causing direct damage by winds and heavy rains and often resulting in evacuations (more on this later).
Leaving for Holbox
At 8:30 am, our friends picked us up to drive to the ferry. The sky was clear; it was a warm sunny day. We arrived at the ferry and purchased tickets which are 200 pesos each; it is less for children but it doesn't go by age – they must be under a certain height.
The ferry leaves on the hour; it is air-conditioned with comfortable seats, and only takes 15 –20 minutes to reach the island.
It took us approximately 3.5 hours from Puerto Morelos including the ferry ride.
Lotus Apartments Holbox
Our accommodations were comfortable with a double bed and a pull-out bed beneath, a bath and shower with plenty of hot water, a hairdryer, microwave, small coffee pot and fridge, a safety deposit box, small TV and free wifi. It was also close walking distance to stores and restaurants.
Upon checking out the accommodations, there appear to be 70+ to choose from so finding a place to your liking should be easy!
Activities
While you can certainly see and experience a lot on your own, you might want to consider a tour or two, especially to visit Bird Island and Passion Island, which is what we did.
Bird Island
Also known as Isla Pajaros, Bird Island is a protected sanctuary for at least 150 different species of birds such as flamingoes, pelicans, herons, and ducks. These birds can live in their natural environment safe from humans.
Passion Island
Passion Island (Isla Pasión) is a small island about a 15-minute boat ride from Holbox. If you are looking for a calm and relaxing getaway with nothing but birds, water, and the environment, then this is it.
Dolphins
While we didn't see the whale sharks, which are described as giant, human-friendly creatures, one of the highlights of our trip was seeing dolphins in the natural wild unencumbered by tanks and trainers. It was a delight to see them come up out of the water, almost as if they were showing off for us. They truly are beautiful creatures.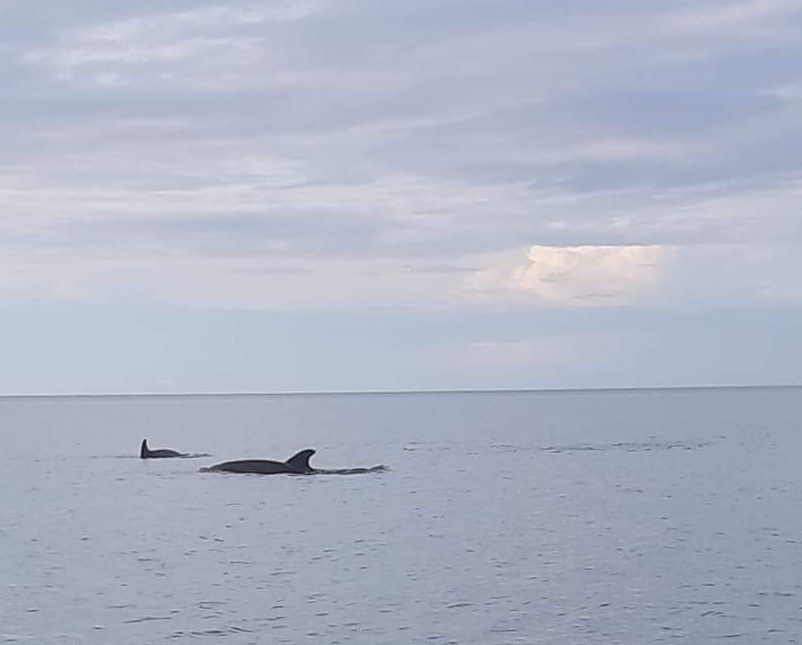 Sunset
Holbox is known for its fabulous sunsets but we were so busy we just managed to get these few.
The Bioluminescence
We were all excited to check out this phenomenon. A simple definition of bioluminescence is "the production of light by living organisms (plankton) as a result of the oxidation of a light-producing substance (luciferin) by the enzyme luciferase (occurs in many marine organisms such as the firefly).
There are some videos online but there is no comparison to experiencing the real thing. You have to go when it is very, very dark to appreciate it -frolicking and splashing in the water, running your hands through the sand while there is a bright blue neon light all around you – it's stunning!
As beautiful as the bioluminescence was, we were absolutely breathless at the starry sky. The night was pitch-black and it seemed as though you could almost touch the stars, they appeared that close. Words can't describe the awe that we felt.
Unfortunately, we didn't have the right camera equipment to take night photos.
The Mystique Blue Resort
One of the resorts we visited was the Blue Mystique which is described as a 'contemporary, luxurious, and exquisite boutique beachfront resort.'
Our main reason for being there was to check out the restaurant where some of us tried the lobster pizza which was very delicious. We were offered a package deal that included a drink and loungers for as long as we wanted so after an early dinner we took advantage of this. The beach was beautiful with a welcome absence of seaweed (unfortunately Puerto Morelos Beach has been plagued with this in recent years).
The sandy beach in Holbox is exquisite with beautiful shades of blue and turquoise, and shallow which means you can walk a long way and still have the water up to only your knees.
Before we left, management opened up a little gift shop on the premises so we could browse around.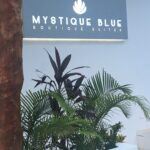 Browsing Around the Town
Visitors to Holbox are enchanted with the town and local businesses and express the wish that it will not turn into another Playa del Carmen.
Strolling around the town, we saw many small quaint places to shop for items such as beautiful crocheted bikinis or handcrafted caftans in vibrant colours. There were lots of restaurants to choose from whether it was for breakfast, lunch, or dinner featuring the catch of the day. For nightlife, there were open-air bars, some with live music. In fact, there are over 50 bars and restaurants to choose from.
If you are hankering for fresh-pressed juice, delicious coffee, homemade ice cream, lobster pizzas or tacos which the island is known for, or just want to meander through the fresh fruit and vegetable markets, it is all here waiting for you.
And if you prefer to just hang out at the beach and sip giant margaritas, you can do that too!
Restaurants/Beach Bars
Flooded Streets
As mentioned earlier, hurricanes can cause much damage. While we were not in a hurricane, our last two days saw torrential rains which we believed to have been caused by Hurricane Hanna. The dirt roads (no pavement in Holbox) were flooded. To get to our destinations, we often had to detour to opposite sides of the street or walk an extra block or two. Many of the locals just walked through the water.  In spite of all the water, the golf cart taxis were busy.
Final Thoughts
We were so happy to have experienced Holbox and would definitely do it again. Swimming with the whale sharks or sitting on the swings out in the water would have been fun. It truly is a laid back family-friendly island without the hustle and bustle of Cancun and Playa del Carmen.
The only negative thing was our return on the ferry. We had to wait for about 40 minutes and heavy rains had us drenched despite the roof over our heads – the relentless winds managed to direct the rain at us, full force. By the time we got on the ferry we were all soaked but my husband, the smart man that he is, grabbed a pair of shorts and a T-shirt from his backpack and changed in the bathroom. I decided to wait it out.
Still, it was an awesome four days and I would highly recommend you experience Isla Holbox – An Unspoiled Gem. If you are interested in some of the famous attractions in the Cancun-Riviera Maya such as Xcaret Parks, Xel-ha or the Xenotes, be sure and check out our Travel Resources.
Have you visited Holbox? What were your experiences? Be sure to share them in the comment section below.
Please follow and like us: