My last catamaran cruise was to the coral reefs in Mexico.
I love catamaran cruises and so far have been on four: one in the Dominican Republic, two in Costa Rica, and one here in Mexico. While they were all fun and different, I liked the last one—we got to meet and swim with dolphins and do a bit of snorkelling.
We booked our tour, Delphinus Puerto Morelos, through our good friend Samuel Gonzalez, who looked around for the best deal for our party of four.
Our day started early (I was up at 5:30!) and our taxi picked up our friends and us at about 7:45 a.m. We made our way to El Cid Resort in Puerto Morelos (part of the world's second-largest barrier reef), where we would board our boat in a marina bay inside the resort. Waiting for the boat to arrive allowed us to relax, enjoy coffee and drinks, have bio breaks, and just take in the view and snap a few pictures.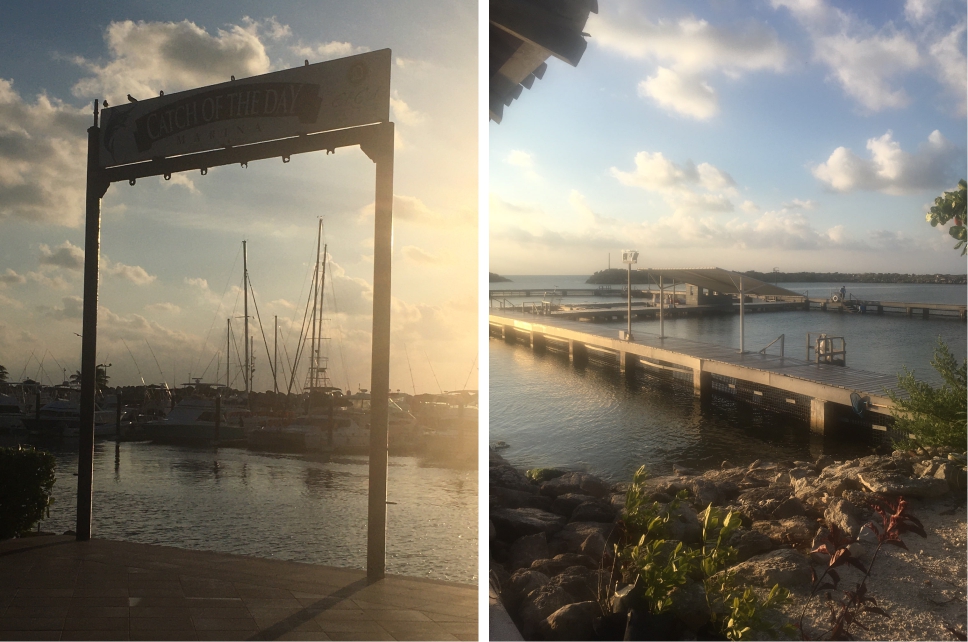 Marina, El Cid Resort, Mexico
Heading to the Coral Reefs
Soon our boat arrived, and we climbed aboard. We were directed to the front of the boat and asked to take a seat. Our group was a mix of a couple of families and us.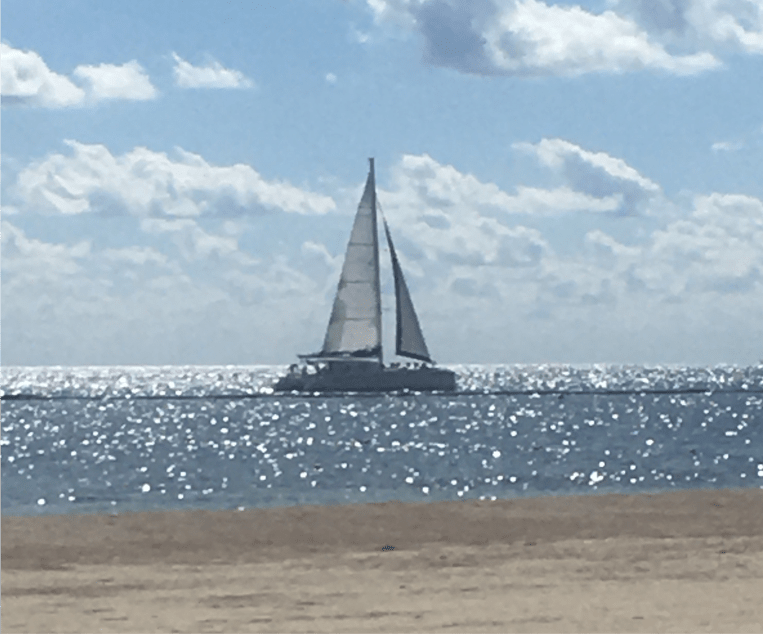 Catamaran, Puerto Morelos, Mexico
We started with an orientation by 'Danny', who was very passionate about the ocean and couldn't stress enough the importance of taking care of it, especially by not throwing plastic bottles in the water.
Did you know… that every day an estimated 8 million pieces of plastic pollution ends up into the oceans. In 2016, a world population of 7 billion people, produced more than 320 million tons of plastic! Every year, marine plastic pollution kills one hundred thousand mammals and turtles and one million sea birds!
Early this year, 50 marine mammals washed up on U.K. shores, all containing plastic in their stomachs. A lot of these animals included dolphins. While dolphins are extremely intelligent animals and not likely to eat plastic, they are susceptible to contamination by other animals that have ingested plastic products.
We learned Danny had left his home in Mexico for seven years to go to Brazil to become a marine biologist. You could feel his passion and dedication as he talked.
I know you want to hear about snorkelling and dolphins, and you will, but I think it is important to understand the importance of taking care of our dolphins and other species as well as our oceans.
Mandatory Rules Visiting the Coral Reefs
To go snorkelling, there were two mandatory rules.
NO SUNSCREEN: Danny was emphatic about this and practically begged everyone not to wear sunscreen; if they already had it on, he asked them to please remove it.
Swimming with sunscreen causes chemicals such as oxybenzone to seep into the water; the corals then absorb it, which then disrupts the reproduction and growth cycles.
Chemicals that are released while swimming or showering (travelling through sewage systems) are considered bigger than climate change, which is causing coral reef damage.
RESPECT THE CORAL REEF:  There were some valid reasons for this.
Touching the coral can cause damage to the reef itself, but because it is sharp, it can cause injuries to you such as scrapes, cuts, and other injuries.
Another very big reason is that we are in danger of losing our coral reefs. It is predicted that coral reefs could be gone in 30 years! Besides snorkelers and divers causing damage to the coral reefs, there are also natural occurrences that can destroy the coral.
Coral reefs off the coast of Quintana Roo, Mexico, are under threat from sargassum, which has been an ongoing problem for a few years, and an aggressive bleaching situation that causes them to turn completely white.
According to the Director of the Puerto Morelos National Reef Park, Maria dell Carmen Garcia Rivas, 30% of coral colonies died during four months due to coral bleaching, which is caused when the water is too warm.
To put into perspective how serious this is, the director states that an entire coral colony off the coast of Quintana Roo, which has taken thousands of years to form, can be killed in a single month due to this bleaching.
As he was wrapping up the orientation, Danny asked if everyone who was going snorkelling knew how to swim outside of a swimming pool, and everyone eagerly nodded yes. However, we learned later that one of the young women did not swim very well, never swam in the ocean, and couldn't see her hand in front of her face without her glasses. I marvelled at the fact that she was still keen on going in spite of this. It later turned out she did very well and had no issues.
Relaxing
After we anchored, our group divided into two groups: those who wanted to snorkel and those who just wanted to stay behind and relax.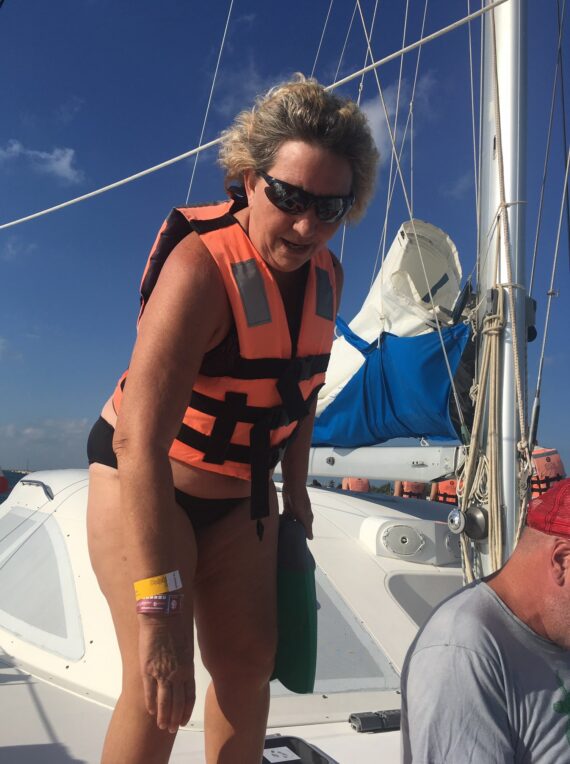 Our friend, Stacey, is getting ready to go snorkelling
The group that stayed behind included one young girl, my husband and myself, our friend Kent from Nicaragua, who was visiting us for a month (his wife Stacey decided to go snorkelling), and Noel, one of the boat crew. Noel had a long conversation with Kent; it turns out his family nominated him to always be Santa because of his name, even though he was born in May.
The snorkelling group, led by Danny and "Captain Banana," put on their masks and lifejackets and climbed into another boat, carrying their fins, ready for their adventure.
The day was a beautiful, clear, sunny day, with temperatures in the high 20's (80's + Fahrenheit). Those of us who stayed behind were quite content to just relax, drink some water (and other beverages), and soak up the sun. It was a beautiful, peaceful time.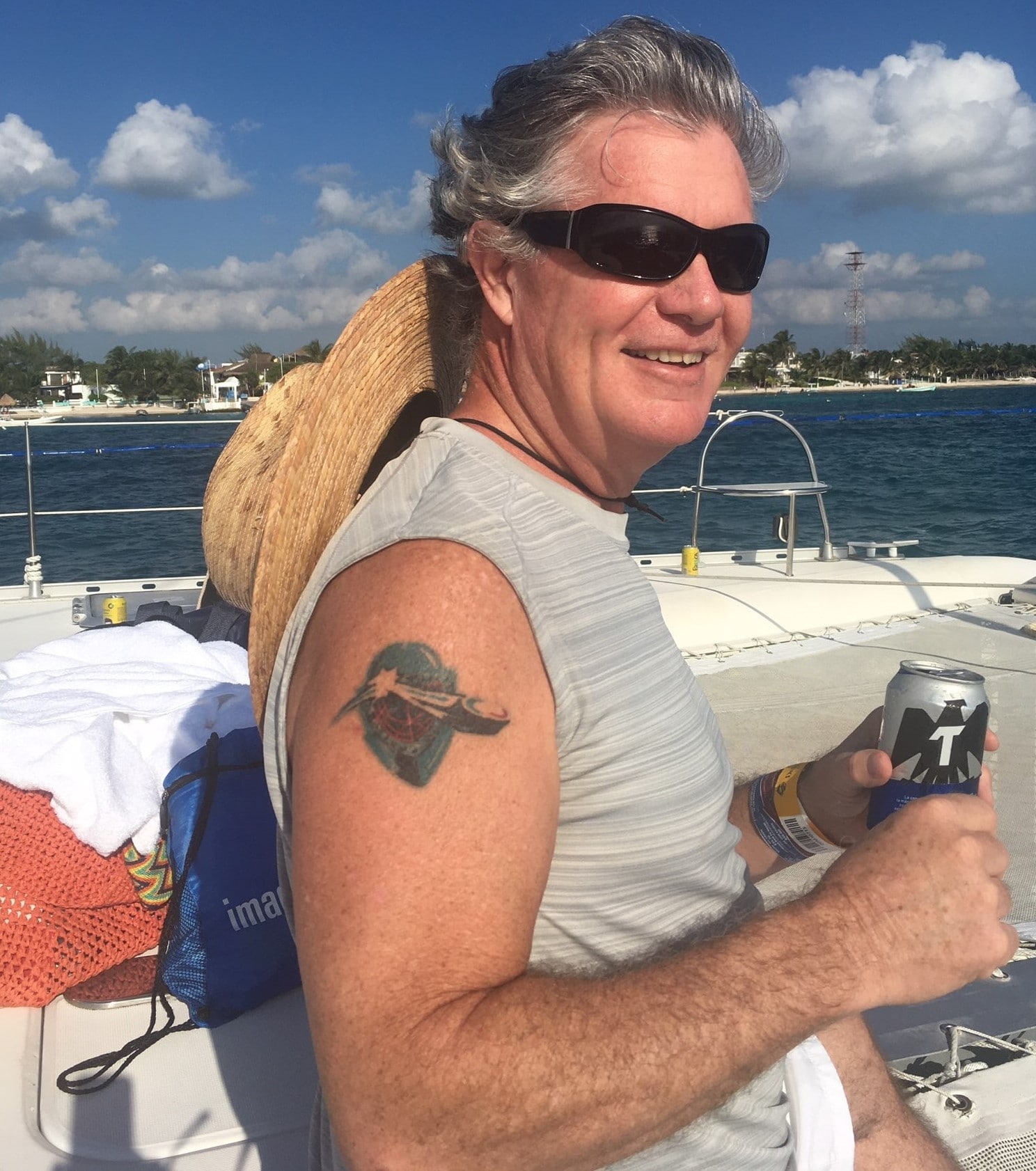 Hubby Relaxing on Catamaran
All too soon, the snorkelling group arrived back, smiling and a bit tired from their excursion, but happy.
We had some lunch, snacks, and drinks, listened to music, and made our way to the dolphins.
Riding with the Dolphins
My husband chose to stay behind and keep an eye on things, so the three of us made our way to the pier.
I am not a swimmer, and even though we were told everyone would be wearing life jackets, I was still very nervous and wasn't convinced I wanted to do this. However, when I saw the dolphins, I changed my mind. I did have one scary moment in the water when I couldn't get my feet to do 'down' and was starting to panic.
The guide was very calm and asked me my name. Then he said, "Look at me, Mary Ann, and just do what I tell you." In no time, I was in the ready position, and two dolphins swam up to me and placed their fins in my hand. That moment was incredible! I think the pictures paint a better picture than what I could tell you, judging by the smile on my face.

Me with the Dolphins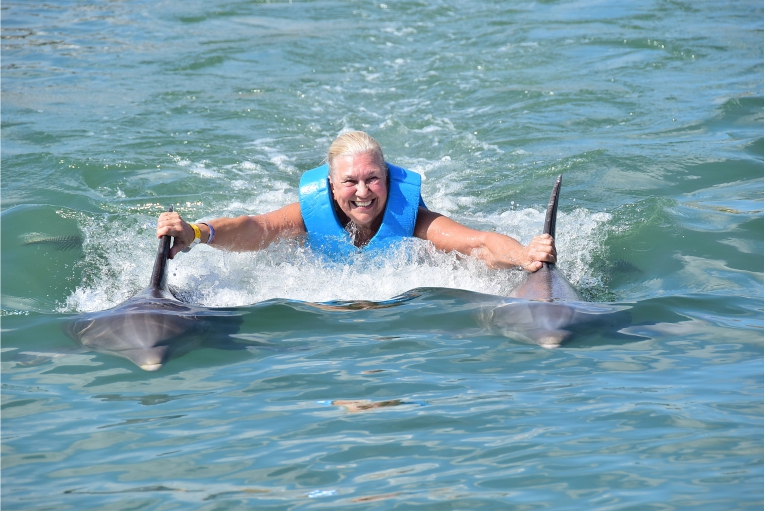 My Friend Kent
Getting Splashed by the Dolphin                       Petting the Dolphin
Speaking of photos, I read many reviews about people saying how expensive they are, and they are right. I was very lucky that my good friends Stacey and Kent decided to buy them and share them with me. They did not even want me to pay for my portion. Thanks, guys!
Iguanas
Just as we were leaving, we saw some iguanas among the rocks. Notice how they are camouflaged—we almost missed them! This one looked like he was posing for me.
Final Thoughts
It was an awesome day and trip all around, with some wonderful memories of riding on the catamaran with the wind in my hair and smiling the whole time. More importantly, it stressed to me the importance of taking care of our reefs and oceans.
Now, if I could just muster enough courage to go snorkelling!
Have you had the opportunity to swim with the dolphins? What did you think?  Would you recommend it to others? Let us know in the comments below.
UPDATE:
April 2020
Since I wrote this article, it has been made abundantly clear that dolphins and other water animals are not treated as well as we might think.
After this article came out, an acquaintance asked me if I would please share the plight of dolphins in a video and bring it to the attention of others. I was happy to do so. I do not condone cruelty to any animal or person. I cannot change the fact that I took part in this, but I can give you more information so that you can make your own decisions.
Please follow and like us: