We found we had some time between house sits, so we took the opportunity to do some travelling, visit friends, do a little camping, and attend a family wedding.
Glammis Ontario
First, we went to Glammis, which is a nice little community and sits at the juncture of three of the original townships of the County of Bruce—Kincardine, Bruce, and Greenock. Historians can check here if you want to know more about Glammis.
Our daughter and her husband (she was the one getting married) own a beautiful home originally called Spruce Lawn, a beautiful 126-year-old (ish) Italianate-style yellow brick farmhouse plus about 80 acres.
This was written about the house in a local historical society book:
"The new residence, with extensive landscaped gardens, was called "Spruce Lawn" and was quite a showpiece. Much entertainment from the community and extended family took place in the large beautiful home full of young people. Spruce Lawn was the scene of at least three weddings."
They purchased the home in October 2016. While keeping much of the home's integrity, including the old woodwork, they have made many modern changes, such as appliances, lighting, and windows. Lots of TLC has been poured into Spruce Lawn, and there are many charming 'vintage' touches throughout. My daughter loves to find old things and restore them into wonderful gems.
Wilberforce, Ontario
After Glammis, we headed to the Bancroft area with some friends. They invited us to come for three days to Riverbank Cottages and Trailers.
My husband and I are not BIG camping or trailer park participants. We are more of the 3 to 5-star hotel types of people—you know, comfortable beds, etc. On the other hand, we do like experiencing new things.
These were close friends, and we had done many things with them in the past. We invited them to places where we were house sitting and stayed with them, both at their trailer in Pittock Lake, Woodstock, Ontario, and their home in Ingersoll, Ontario. So we trusted their judgment. Since we were in between places, we said, "Sure, why not?"
Change of Plans
A couple of days before our departure, we received a message from our friends saying, "We have good news and bad news." The bad news she said was that our 2-bedroom cabin was no longer available, and we would share a one-bedroom with a pullout couch in the main living room. It is not a big deal; we have been to other places with them and know how to adapt.
The good news was that we would get the one-bedroom; there was also a little deck right on the water. How great was that?
This location had a lot of attractions for our friends: paddle boats, great photography opportunities, kayaking, which is a passion of theirs, and close proximity to the water.
It sounded good to us; although we weren't into the above activities, the thought of being this close to the water appealed to us.
Our Arrival
We had to get up at the unseemly hour of 5 a.m., pack the vehicle, and head out for a four-hour drive to the outskirts of Wilberforce. The way the car was loaded, you would think we were going for a couple of weeks, but in addition to our clothes, footwear, and cameras, we also packed coolers with enough food and wine for the three days.
After a couple of pit stops, we arrived at our destination, Riverbank Cottages & Trailers, located on the outskirts of the town of Wilberforce between Grace and Dark Lakes, on the Grace River. The park is situated on twenty-two acres with eight hundred and forty feet on the river.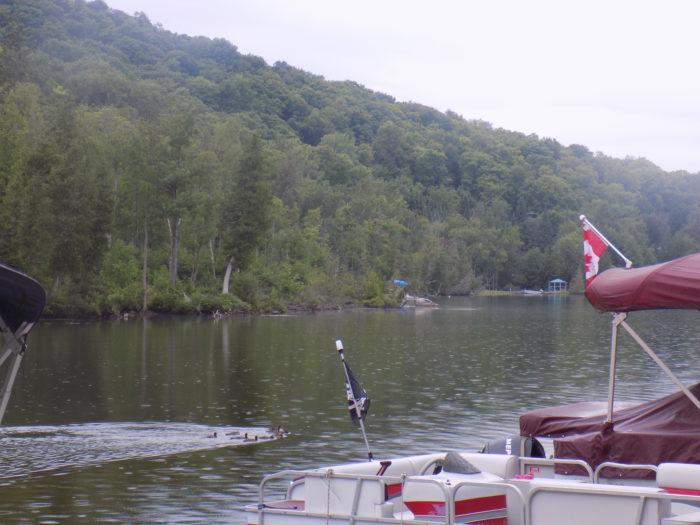 Our Cottage
Our 'cottage' was cute and a little on the rustic side. We were equipped with a stove, fridge, cold water, a few dishes, and basic amenities. There was no internet, and we were quite happy with that! But we also had our own little deck right on the water. That made up for a lot! And it was quiet and peaceful, just what we all needed.
How We Spent Our Days
A typical morning for us would be to get up early, make coffee, have it out on the deck, and relax for a while before coming in to make our breakfast. No matter how early we were up, our friends were already gone kayaking, with their cameras in tow.
This beautiful place was our direct view across the river.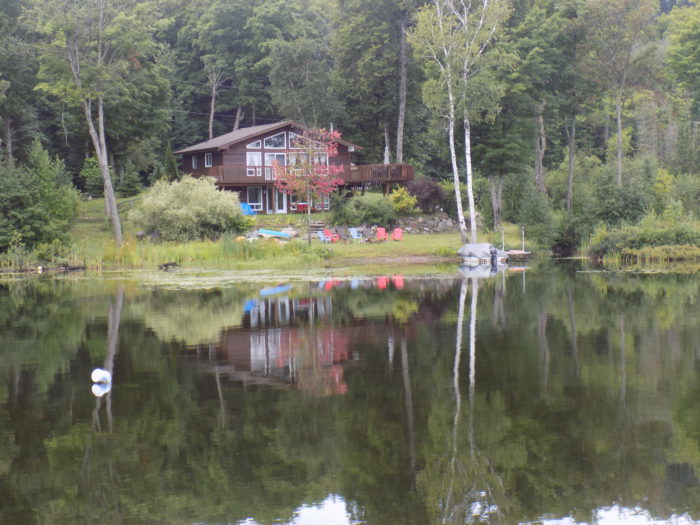 We lazed away the day, either reading on the deck or just walking around the area.
Three geese showed up every morning, taking turns diving into the water; also, a family of ducks paraded by one morning. Our friends managed to capture beautiful pictures of these while kayaking, as well as several loons. I can't wait to see them!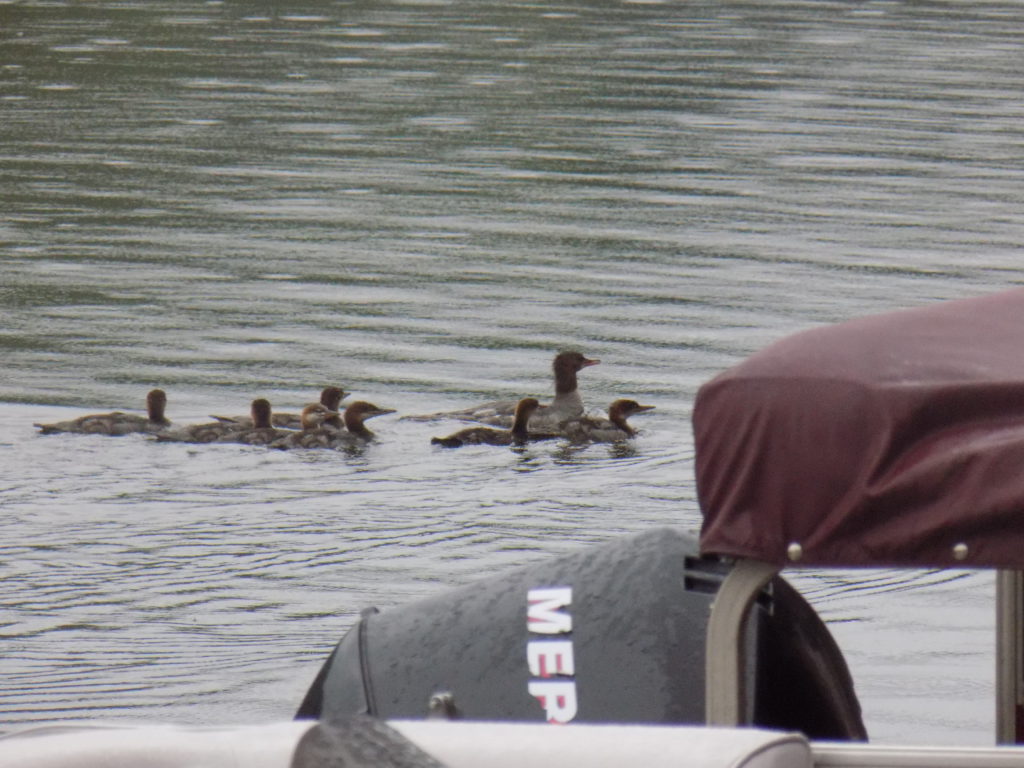 One day we went shopping in nearby Bancroft, where I managed to put a dent in my credit card at a place called Jungle Imports, with wonderful, friendly staff and really cool clothing!
An Unexpected Mishap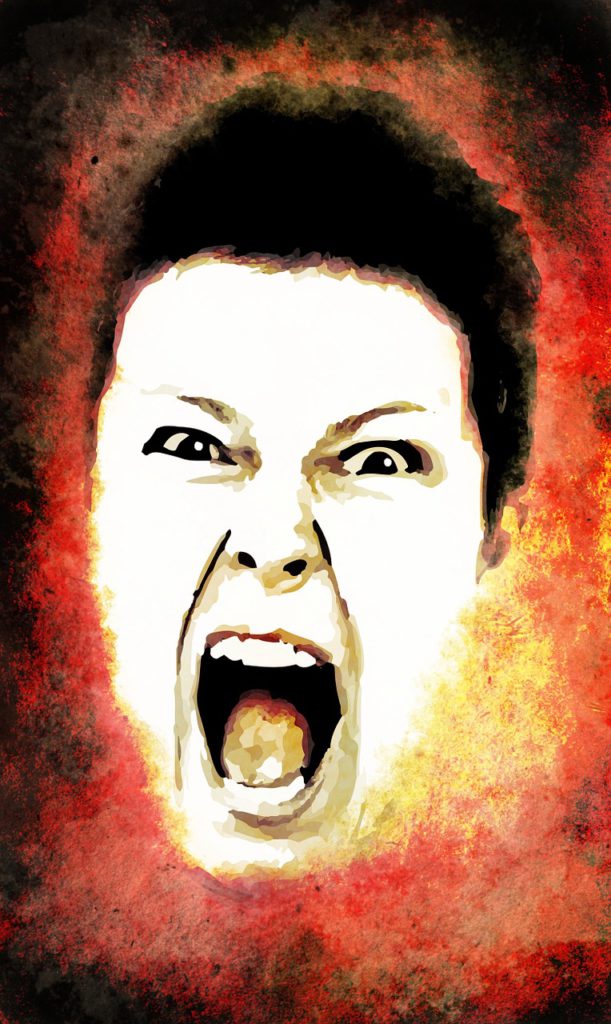 The only negative thing I can say about this whole camping experience was that twice—not once but twice—I managed to get locked into the outdoor shower. I couldn't believe it when I went to leave, and I couldn't get out. Between bouts of hollering and panicking, a man on the other end let me out the first time, and a woman on the second day let me out. Scary, but true!
Once I had closed the door, the little wooden bar slipped down into a locking position! On the third day, I made sure to use the other shower, and even then, I was worried, but luckily, no more mishaps occurred.
Off to London
After leaving Wilberforce, we made an afternoon stop in London to see another good friend, enjoyed some drinks and a BBQ, the pool, and sunshine (I'm the smiley one sitting down with hubby), before heading back to Glammis.

The Wedding
We returned to Glammis to attend our daughter's wedding at a venue called Marwanda Estates in Kincardine. There is a garden called Sumac, a pond, a 28-acre forest with many trails, and a beautiful fountain with mini lights for dancing in the evening; it was a perfect romantic and magical place for our daughter's wedding.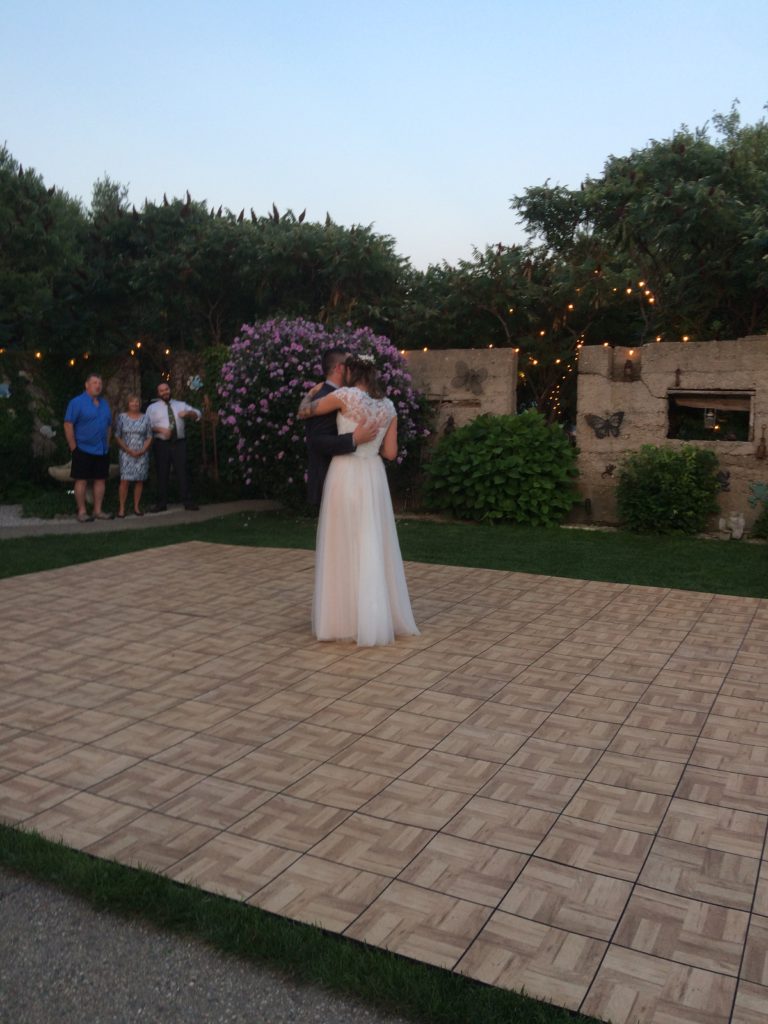 Sadly, we heard rumours that this lovely place would be closing its doors in the foreseeable future.
As we had been travelling and away much of the time, our daughter's future mother-in-law worked tirelessly to make it beautiful and classy. It was a wonderful event with lots of friends and family members and went long into the night. Of course, the bride looked stunning!
The next morning, we headed out for our third house sit. By now, we were getting a handle on these house sits that we found through Trusted House Sitters.
IF  YOU MISSED PART 1 click here.
IF YOU MISSED PART 2 click here.
We hope you enjoyed this article. If you have some travel fun you would like to share, we would love to hear from you.
Please follow and like us: