House Sitting is an interesting concept. Basically, what it means is to live in someone's home, taking care of it (and pets) for a period of time while they are away. Finding the best house sitting websites can be a challenge, especially for new time users.
My husband and I travel for six months of the year. The other six months we house sit.
We first heard about house sitting while in Costa Rica. We met several couples who told us they were house sitters and could go anywhere in the world if they wanted to. This sounded interesting to us and upon our return to Canada, we immediately registered to a popular house sitting service.
We are now well into our second year, with over 20 house sits to our credit; several of them are repeat clients.
The purpose of this article is to provide you with some insights on 3 popular house sitting services, what house sitting means, how it works, the pros and cons, and what to look for when choosing a service, either as a house sitter or the owner looking for a house sitter.
As a house sitter ourselves, my husband and I are affiliated with more than one house sitting service and extremely happy with them.
3 Best International House Sitting Services/Websites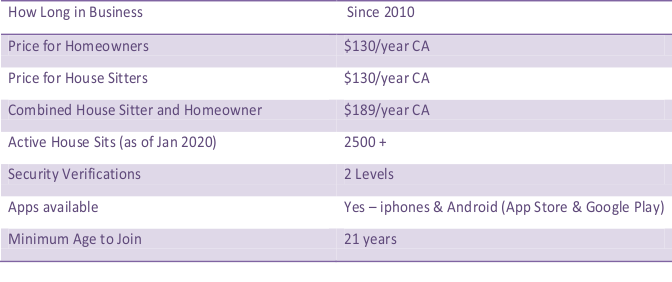 TRUSTED HOUSE SITTERS HIGHLIGHTS
This company was launched in 2010 by Co-Founders Rachael and Andy when Andy saw a need. He was helping out a friend, caring for his 2 cats and threes dogs in Galica Spain when he realized that many people would prefer to leave their pets at home in familiar surroundings rather than board them out.
It is one of, if not the largest, company that offers this service. They have a very strong presence in Australia, U.S., Canada, and the UK but their house sitters and owners are world-wide.
Even their staff is encouraged to do hands-on-training by house sitting themselves so they can bet a better understanding of what clients are looking for.
Since there is huge competition, one of the things recommended for new members is to provide a top-notch profile so that you stand out. Don't be afraid to include any private house sits – this is how we got started with over 10 years of house sits for family and friends.
The nice thing is you can choose what animals you wish to sit for. While we are willing to look after most animals (including chickens), we do draw the line at snakes and other large reptiles. Not all house sits include animals; sometimes the owners want to make sure their property is looked after while they are away.

HOUSE CARERS HIGHLIGHTS
House Carers has been around even longer than Trusted House Sitters, starting their company in 2000 by founder Ian White. Although based in Australia, their operations are global with faithful homeowners returning year after year.
It is free to homeowners, however, a $25 fee gives a Premium Membership which ensures some extras such as being able to add private notes to sitters' profiles, participate in the Referral Reward program and receive a bonus six months membership.
There is a free trial for house sitters but options are very limited. For example, a sitter won't be able to contact homeowners.
A paid membership allows a sitter to respond to messages from homeowners or apply for any house sits, place contact phone numbers on profile visible to logged in homeowner (not seen by public), appear as a featured house sitter (in rotation with other sitters), upload up to 14 photos with captions, appear in unpaid limited members in search results, and include link from a website if sitter has one.

MIND MY HOUSE HIGHLIGHTS
At just $20 US, this international house sitting company is very affordable. Owners Susan and Alan, (web editor and web developer) describe their operation as a 'mom and pop' business and are proud of what they have accomplished since 2005.
Although the company is Australia based, many of their house sitters and owners come from Europe.
Homeowners join for free and it is their intent to keep it that way. The messaging system is very good and prompt notifications are sent to homeowners and sitters of upcoming house sits or messages. 
Some of their resources include an FAQ section, advice for homeowners and sitters, house sitting agreement, "before you go" home owners checklist" and "before you go" house sitters checklist."MIND
SUMMARY
1) Trusted House Sitters
PROS:
the largest company in the world therefore lots of choices

two Verification levels available for house sitters

Annual membership (no hidden costs)

Free 24/7 Vet Advice Line

Insurance backed guarantee for homeowner

Easy to use website including a place to load up to 14 photos

Great messaging system

Resources available for both owners and sitters

Welcome Guide prepared by owner is available to the house sitter

Reviews available upon completion of sits

App for iphones and androids

Has excellent client reviews
CONS:
Price might be considered steep by some although if you compare that to finding living accommodations or boarding your pet, it becomes quite reasonable

Since the company is so large, competition is hefty, therefore having a profile that shines is necessary
2) House Carers
PROS:
Well established company

Lots of great resources and a large FAQ section for both owners and sitters

Affordable membership for sitters

No automatic renewals (reverts back to free/guest)

Referral program for both owners and sitters

House sitting agreement

Has excellent reviews
CONS:
Can only be reached through their contact page; sometimes it takes at least 24 hours before you hear back.

Free house sitter trial is very limited – for instance you can't upload photos or contact home owners
3) Mind My House
PROS:
Very affordable to join

Well established

Reviews available upon request

Good message system

Map locator

Great resources

Strong community
CONS:
Verification checks not requested

no discounts but at this price do you really care

Fewer available house sits

No social media presence
Why House Sit?
It isn't all for the benefit of the owner; it also fills a need for the person doing the house sitting. People house sit for a variety of reasons.
An opportunity to travel

Free accommodations

Save money

Genuine love of animals

A way of life – they don't want to be tied down to a mortgage, house rental, etc.

Experience the culture in other areas/countries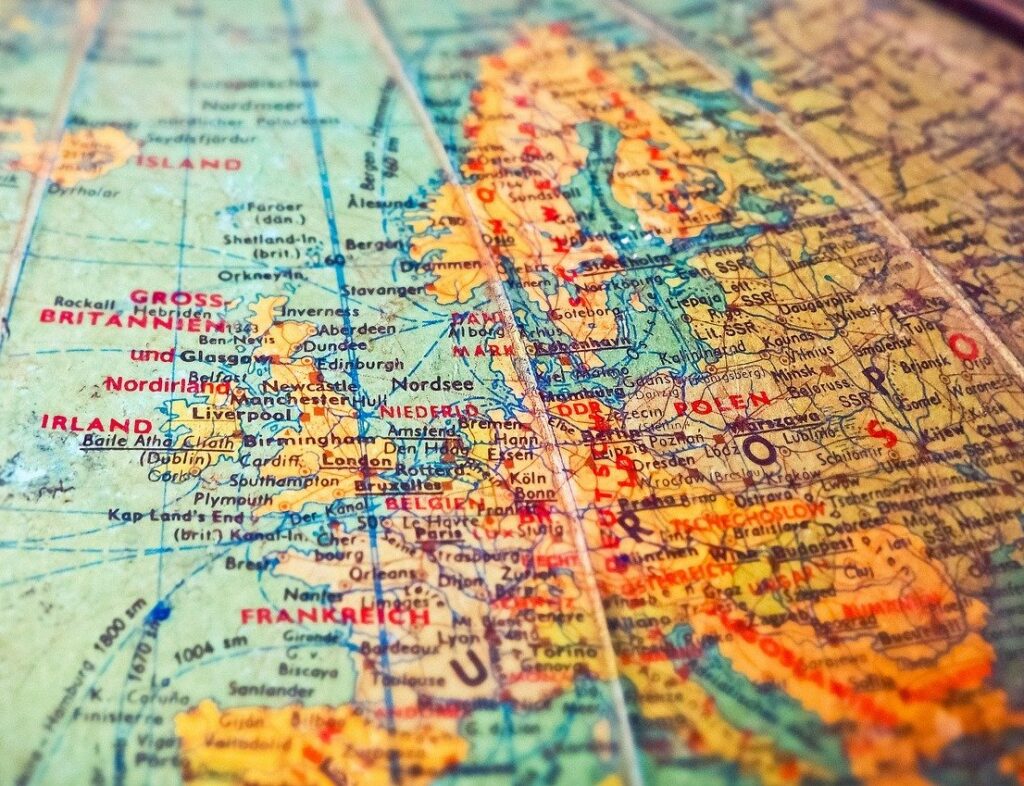 What Does It Mean To House Sit
Members of a house sitting service will usually pay an annual fee where owners and sitters can connect.  
To house sit means to look after someone's home, often but not always with pets included (we did a 4 month house sit in Ottawa with no pets), for a period of time in the owners' home, assuming some responsibilities, such as light housekeeping, watering plants, yard or pool maintenance, or administering medication to pets if needed. These sits can be just a short weekend, a couple of weeks, several months, and sometimes even a year.
It is very important for a house owner to know his property and pets are in good hands and that the sitter can provide peace of mind, knowing that all is safe, secure, and they (the owners) can travel worry-free.
You better love animals! We have looked after cats, dogs, chickens, fish, even pet geckos. Here we are with two beautiful golden retrievers.
What to Expect When Choosing a House Sitting Service/Website
When my husband and I first thought about house sitting we didn't have a clue about first steps. We were recommended to Trusted House Sitters by some friends and 2 years later, with several house sits completed, we feel we made the right decision. We have joined other sites but because Trusted House Sitters is so large, we never lacked for houses to sit. I do remember that when we first started, we had four house sits back to back (!). I guess maybe we have a good profile.
Regardless though, when you are first starting out as the sitter or the home owner, you want to find a service that will provide certain criteria to make your house sit an enjoyable experience for everyone. The following are a few items I would suggest you look into, based on the information provided on the three house sitting companies mentioned here.
House Owners and House Sitters
Does the company have a good reputation

How long have they been in business

Do they provide an insurance backed guarantee (for home owners)

What is the cost to join

What is the renewal procedure

What areas do they cover – are they global

Do they provide a review section (for house sitters and home owners)

Do they ask for security verification (for sitters)

Is there an easy messaging system to communicate with each other

Can photos easily be added

Do they provide an incentive or referral program

Customer service – are they easy to reach
Final Thoughts
House sitting can be a rewarding and fun experience for everyone concerned. For the sitter, It's an awesome opportunity to feed your imagination and quench your thirst for travel, meet new people, learn about their cultures, and of course look after some furry new friends along the way.
For home owners, it is a chance for you to meet new friends and travel in peace with the assurance that your home and 'family' are in good hands while you are away.
We hope with this review we have provided you with some guidance in picking out a house sitting service that is perfect for you, either as the home owner or the sitter.
Are you a house sitter? Have you used house sitters before? Please share  your experiences in the comment section below.
Please follow and like us: