Although many homes have toolboxes and a few tools, it seems that most of the homes we sat in had no such thing as a basic tool kit!
We like to cross our t's and dot our i's, so we don't take anything for granted anymore. In addition to asking if the homeowners have a coffee maker (since we are major coffee drinkers), we now ask them if they have a tool kit or some basic tools and where they are kept.
Why a Basic Tool Kit is Important
My husband is not really a handyman, but if there is some little thing that needs fixing and is bugging him, then he takes the time. We have had several owners comment in a very pleased and surprised way on how 'things' were repaired while they were gone.
During one particular house sit, the pet dog got excited at a flock of geese sitting in the pool and charged the screen door. Thankfully, there were tools to make minor repairs until we could reach the owners and ask them what they would like us to do.
Even if you don't expect the house sitter to fix minor repairs, it is still a good idea for you, the homeowner, to have a small tool kit on hand. Bicycles need adjustments? You need a tool. A nail is sticking out somewhere in a dangerous spot? You need a tool. A hinge is loose on a cupboard door? You need a tool—just the basics.
We are not talking about breaking the bank here. Just a few necessary tools in case something needs to be fixed.
TOOLBOX
Let's start with the toolbox. It doesn't have to be elaborate or large. It can be metal or plastic. You just want to be able to keep your tools in one place so you aren't constantly searching for them. You could keep tools in a drawer or on a shelf, but make sure it is a dedicated place for them and nothing else.
There are plenty of places where you can pick up a reasonably priced toolbox, such as Walmart, Canadian Tire, Home Depot, and Lowe's (even the local dollar store).
This hyper-tough 19-inch toolbox is practical and fully portable, keeping your tools in one place, perfect for DIYers. The metal lid stopper keeps the lid open while using it. Even has a padlock-ready eye to keep your tools protected (a lock is not included).
Affordable at $18.99 and with over 1800 reviews, this toolbox is big enough to hold your essential tools.
Price: $12.88
What to Include in the Toolbox
SCREWDRIVER SET

You can buy screwdrivers individually or in a set. Three of the most popular ones you should have are the Phillips (the head has pointed edges in the shape of a cross), the Robertson (the head is square-shaped), and a flat one (a standard screwdriver used for many different-size screws).
There are a couple of others, but you will likely use these the most often.
The HART 6 Pc. The screwdriver set is the perfect set for DIYs. The six popular sizes and styles each have a magnetic tip and non-slip grip handle for comfort and ease and come with HART's Limited Lifetime Warranty.
Sizes include (3) Phillips: PH1x3-inch, PH2x4-inch, and PH2x6-inch; (3) slotted: 1/4-inchx4-inch, 5/16-inchx6-inch, 1/8-inchx5/32-inch, and 3/16-inchx4-inch.
Price: $12.44
HAMMER
A hammer is definitely a handy tool.  The popular 16-ounce claw hammer is versatile and yet strong enough to handle most simple jobs.
The Irwin general-purpose hammer is made of durable fibreglass and features an angled, smooth face, ensuring a straighter nail drive. It also has a magnetic nail starter for ease. Covered under the HART's limited lifetime warranty.
Price: $11.44
DUCk TAPE
Duck tape is amazing and is used for so many things.  It is adhesive with a mesh or yarn of fibres that act as reinforcement.  Easy to cut by hand, yet strong enough to fix any minor repairs such as rips, joining tubes together, temporarily fixing pipes, etc.
This could actually be a lifesaver for your house sitter who could be faced with an unexpectedly broken pipe.
This duct tape has maximum strength for heavy-duty jobs, has a waterproof backing, and rubber-based adhesive, and is easy to tear and tough for all your needs.
Price: $7.84
PLIERS
This tool has two handles for holding something firmly in place or pulling small things, like nails. They come in many different sizes and shapes, but the one used most is the needle-nose pliers.
The Irwin vice-grip 6-inch Long Nose Pliers feature durable nickel chromium steel construction, comfort and ease with the ProTouch grips, and excellent long-reach design for those small work areas.
Price: $12.10
ADJUSTABLE WRENCH

The adjustable wrench (or spanner) has a movable jaw that adjusts to different-size fastener heads such as nuts, bolts, etc. They can be used to tighten plumbing fixtures or tighten a loose bolt.
The wrenches in this set are 6″ and 8″ long, with a large screw to enable easy adjustment and a tighter jaw fit. Made of durable steel and comfortable grip handles, these wrenches stand up to daily wear and tear and get the tough jobs done.
Price: $7.88
Other Items to Have on Hand
The next few items, while not considered tools, can come in handy and will fit nicely in the toolbox.
FLASHLIGHT
This is definitely a must. You don't want your house sitter fumbling around in the dark in a strange home. Flashlights are available anywhere, in all shapes and sizes, but it might be a good idea to invest in a good one. You can also opt for rechargeable.
In fact, it is a good idea to have more than one—in the bedroom or kitchen, as well as one in the toolbox.
The Rayovac Brite Essentials Robust Rubberized LED Flashlight Multipack consists of three flashlights: one D battery flashlight for super bright light and two smaller AA battery flashlights. Each flashlight is impact-resistant up to 1 meter. Value and performance!
Price: $9.84
FUSES

(if you don't have a circuit breaker)
While fuses are not a tool, they are a necessity, and keeping them in the toolbox is a good place to store them.
Some older homes still use fuses, so the last thing you want is for your house sitter to suddenly be inconvenienced. Since fuses can't be reused, it is best to have several on hand in case of an overload.
Fuses should be the proper rating; otherwise, using a higher one could cause overheating, which could cause a fire. For example, if your appliance calls for a 30 amp, you don't want to put in a 15 or 20 thinking it is ok.
This package includes 15 amp, 20 amp, and 30 amp fuses. There are two types of threaded fuses available: Edison Base (brass threads) and Rejection Base (porcelain threads).  The spring-loaded design provides superior short-circuit and overload protection.  Plug fuses are rated for a maximum of 125Vac.
Price: $9.92
TAPE MEASURE
I actually carry a small cloth tape measure in my purse.  You never know when you are buying something and you wish you could measure it.
Tape measures come in plastic, soft cloth, fibreglass, or hard case. Again, you can pick them up almost anywhere.
Chances are your house sitter won't be doing any DIY projects in your home so we recommend a versatile fabric that they can take with them for personal shopping.
This measuring tape is made of fibreglass which makes it soft and flexible. The bright, yellow colour makes it easy to find. Ideal for home or business use. It measures a total of 10′, 120″ or 300cm in length. Small, light and pocket-size; easy-to-read measurements. 
Price: $8.49
ASSORTMENT OF NAILS AND SCREWS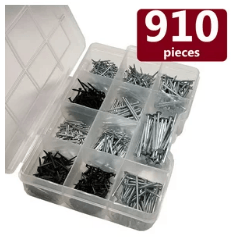 You can buy these individually but sometimes you can get them assorted in packages or small plastic containers that will fit nicely in your toolbox. These can come in handy if a sitter needs to make a minor repair.
The 910 PC Nail Assortment kit comes with flat head nails, round head nails, shoe nails and panel nails. Each allowing a multi-functional purpose and is used for any construction project.
Price: $10.99
Prices are current. Subject to change by Walmart.
Final Thoughts
A toolbox with a few basic tools will make a house sitter happy. Even if they never have cause to use them, there is peace of mind knowing tools are available for an unexpected repair job.
From our experience, I can tell you that the homeowner will be doing a house sitter a big favour. It is now one of the questions we have on our list for new house sits.
Some homeowners might expect a sitter to have experience in fixing minor repairs (usually mentioned in the listing), especially if it is a long sit. In that case, the homeowner should have all the tools they think a house sitter might require.
Please follow and like us: